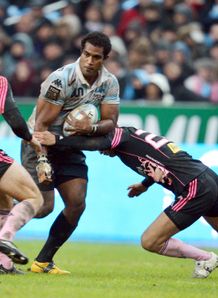 Related links
Also see
A high-stakes Paris derby and a clash between France's two most high-profile teams are the headline acts this weekend as we enter the home straight.
The Top 14 promises to live up to its reputation as one of world rugby's most hard-fought leagues with another raft of high-profile and potentially decisive matches this weekend.
The situation couldn't be tighter as just five points separate second place from seventh place with four rounds left to play.
10 clubs realistically remain in the race for a place in the top six and the play-offs.
Clermont, away to ninth-placed Brive in Friday's match, top the table on 64 points. Toulon sit second on 61pts, ahead of Montpellier on points difference, with defending champions Castres fourth on 60.
Ahead of this weekend, the two final provisional spots in the top sextet belong to Stade Français (58) and Toulouse (57).
Third-placed Montpellier host Bayonne, who seeking a victory to lift them out of the clutches of Oyonnax, in 13th position, with Biarritz already guaranteed relegation to the ProD2 second division.
Oyonnax entertain 10th-placed Grenoble, for whom a bonus-point victory would lift them well into contention for a play-off spot.
Bordeaux-Begles play relegation-threatened Perpignan at home, while Castres will look to consolidate their fourth place at under-performing Biarritz.
Fixtures:
Friday, March 28
Brive v Clermont
Saturday, March 29
Stade Français v Racing Métro
Biarritz v Castres
Bordeaux-Bègles v Perpignan
Montpellier v Bayonne
Oyonnax v Grenoble
Toulon v Toulouse
Previews:
Stade Français Paris v Racing Métro 92
Stade Jean Bouin, Paris
Racing-Metro travel across the French capital, knowing a victory in the Paris derby would do their belated charge for a play-off berth the world of good in what could be a season-defining game for les Franciliens.
"I hope we'll finish like an express train and manage to slide into the top six," said Racing centre Henry Chavancy, echoing memories of last season.
"It might be a bit like a burglary, but we don't care!"
Chavancy conceded, however, that this season's run-in was different to last year, when he said the team "were practically condemned by mid-season".
"We then won nine matches on the trot. But this year, we've bounced between good and less good results, but we've never really got close to sixth place. We've never been as close as today," said Chavancy.
Racing coach Laurent Labit maintained that the level of rugby in the Top 14 has "never been as high", expressing his hopes that his expensively-assembled team can translate the league's best defensive record into something more attack-minded.
"We're still seventh, but we're one of a number of teams enjoying a very good dynamic," said Labit.
"We've only lose one of our last six Top 14 games."
But Stade Français are also in form, and unbeaten at Stade Jean-Bouin this season.
"Given the standings of the two teams, we can almost call the match a quarter-final," said Chavancy.
"I think it's the first time since Racing got back into the Top 14 (in 2009) that the derby carries such importance."
Stade lock Alexandre Flanquart - a try-scorer as Stade were held to a thrilling 27-27 draw last weekend against Toulouse - concurred, saying: "Yet another crunch match, maybe the most important of the season because the result could lead to many things.
"We're preparing for that and we expect something full-on. It's a real derby, a match not to lose!"
Stade will be without scrum-half Julien Dupuy, hooker Rémi Bonfils and number eight Sergio Parisse, who are all injured.
Result in Round 10: Racing Métro won 16-12
Kick-off: 14:55 local (13.55 GMT)
Referee: Jérôme Garcès
---
Biarritz Olympique v Castres Olympique
Parc des Sports d'Aguilera, Biarritz
There's something both perplexing and amazing about Biarritz being relegated from the Top 14. A squad brimming with international talent led by Imanol Harinordoquy, Taku Ngwenya and Dimitri Yachvili will spend next season slumming it in the ProD2.
How many of those players hang around is another question - Joe Pietersen and Joshua Furno are two who should definitely move on.
With one win in their last ten matches, it's difficult to back Biarritz to win any fixture at all against anyone, let alone title-hunting champions Castres.
Oh, and Biarritz have conceded 518 points this season at an average of 23.5 per game. On that basis they deserve to go down.
Castres meanwhile are tucked in to a congested top seven, of which only six can make the playoffs. They thumped Brive 38-6 in the last round, the latest win in a run of six in their last ten games.
Result in Round 10: Castres won 39-0
Kick-off: 18:30 local (17:30 GMT)
Referee: Salem Attalah
---
Union Bordeaux-Bègles v USA Perpignan
Stade Jacques Chaban-Delmas, Bordeaux
Bordeaux-Bègles pipped Bayonne away and took down Clermont at home in their last two matches, bringing them into Saturday's match on a fine run.
Metuisela Talebula is the league's top try scorer with 12 and has understandably been brilliant all season, the only player in double figures for the campaign.
Sitting on 54 points they might just have too much to do to make the playoffs, but it has still been a fine season.
Perpignan will not competing in the playoffs, but safety has been their priority for some time and now seven points clear of Oyonnax, they should be alright.
Even a losing bonus point away here would be valuable - not likely considering USAP have only picked up three league points from their last six away matches.
Result in Round 10: Perpignan won 31-20
Kick-off: 18:30 local (17:30 GMT)
Referee: Sébastien Clouté
---
Montpellier Hérault Rugby v Aviron Bayonnais
Stade Yves Du Manoir, Montpellier
Montpellier have won five of their last six games are are lloking to secure a home play-off. In fact, they're still in the hunt for automatic qualification into th semi-finals.
Bayonne, however arrive in desperate need of points as they sit just five points clear of the drop zone. With Oyonnax - who also have a game in hand - playing at home this weekend, Bayonne must come away with something - even a losing bonus point will be invaluable.
The visitors have won just one of their last four games - the Basque derby against Biarritz - so the task is a tough one against a Montpellier side that have lost only one game at home this season.
Result in Round 10: Bayonne won 24-19
Kick-off: 18:30 local (17:30 GMT)
Referee: Christophe Berdos
---
US Oyonnax v FC Grenoble
Stade Charles-Mathon, Oyonnax
Oyonnax are clining on desperately but this is game they should be able to win against a Grenoble outfit coming off a three-game losing streak.
FCG should be able to assure their safety from the drop with two home game in the next month so it's hard to see the visitors arrive with the motivation needed to turn around their record on the road.
Result in Round 10: Grenoble won 23-10
Kick-off: 18:30 local (17:30 GMT)
Referee: Sébastien Minery
---
Rugby Club Toulonnais v Stade Toulousain
Stade Vélodrome, Marseille
Ahead of their European quarter-final away to Munster, Toulouse have been handed the tough task of following up a visit to Paris with a trip to Marseille for another gala clash.
"The match against Toulon is delicate because it comes just before that against Munster," said Toulouse forwards coach William Servat.
"Even if we'll seek a continuity in our gameplan, we will leave some players on the bench to prepare for the massive game that awaits us."
Toulon are also faced with a tough schedule having visited Clermont last week ahead of next weekend's clash with Leinster.
Toulouse have lost 9 of their 11 away games this term but are in solid form on the road at the moment having won two and draw one in their last three trips.
Toulouse have given French internationals Yoann Maestri, Gaël Fickou and Maxime Médard a week off but Yoann Huget will return however having missed the clash against Stade Françaislast weekend. The same goes for fly-half Lionel Beauxis.
Centre Yann David and loose forward Yannick Nyanga are also both likely to return from injury layoffs but Luke McAlister has been sidelined with a back injury
Springbok wing Bryan Habana is set to return from a long-term injury from the Toulon bench. Second-placed Toulon, however, will be without ex-All Black lock Ali Williams, who has a bicep injury.
Result in Round 10: Toulouse won 13-12
Kick-off: 20.45 local (19.45 GMT)
Referee: Romain Poite