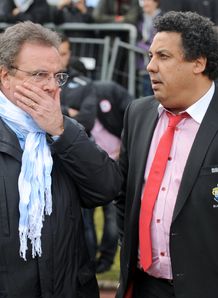 Related links
Also see
Bayonne boss Alain Afflelou has announced that plans for a merger between his club and Basque rivals Biarritz have reached a dead end.
Earlier this month Afflelou and his Biarritz counterpart Serge Blanco indicated that they would look into the possibility of creating a single, united Basque club.
With both clubs languishing at the wrong end of the Top 14 standings, some suggested that it made sense for the near-neighbours to pool their resources.
Their has however been staunch resistance from both sets of supporters, an understandable reaction considering the rivalry in the Pays Basque is one of the fiercest in the world game.
"The conditions mentioned in our first exchange are no longer present," said Afflelou in a statement on Wednesday.
"I cannot agree to take our club, which is legally, economically and fiscally healthy up a blind path.
"After consultation with the majority shareholders, members of the Supervisory Board and representatives of the fans, the conditions envisaged have not been met. I have decided to end these discussions."