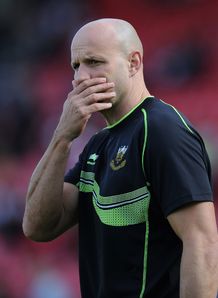 Related links
Teams
Also see
Northampton Saints boss Jim Mallinder admitted he felt embarrassed by his side's 40-7 Heineken Cup defeat to Leinster on Saturday.
Saints were crushed in a seven-try mauling at Franklin's Gardens courtesy of a stellar display from the three-times Champions.
But their own showing disappointed Mallinder as they failed to match the Dubliners in virtually every aspect of play.
"We were embarrassed," Mallinder told the Northampton Chronicle.
"We came second best.
"We made a terrible start and that didn't improve.
"Sometimes in a game you do make bad starts, you do have a bad five or 10 minutes, but you at least then expect to come back fighting for the next 70.
"We were completely outclassed.
"It's a game we were building up towards. we had some league games recently and it was our big game. At home, against one of Europe's finest teams and I feel embarrassed.
"We've let the fans down. We've got some great fans here who come and they love the European competition and we've messed up today.
"At half-time we said we could still do this. If Leinster have done this to us, we could do the same thing to them.
"We did improve slightly in the second half but it was always game over. The damage had been done in the first 20 minutes."