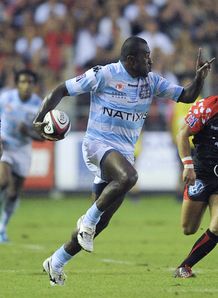 Related links
Also see
Toulon crashed to their second home defeat of the season on Friday as Racing-Métro won 36-31 in the top 14 at Stade Felix Mayol.
Toulon were undefeated at home last season but have yet to win there this campaign as Racing outscored their hosts three tries to one to inflict RCT's second loss in three games.
Racing led 16 -12 at half time thanks to the only try in the first period from loose forward Antoine Battut, who scored in the eleventh minute (despite being high tackled by Joe van Niekekerk) after centre Albert Vulivuli had broken through the home defence on a storming run from the half-way line, handing the visitors a 10-3 lead.
The hosts' only reply came from the boot of Jonny Wilkinson, who sent over four penalties of his eight penalties.
Toulon suffered at scrum-time early on, but finished the half strongly, keeping the ball in hand and dominating the territory stats but were unable to break down the very well-organised Racing defence.
Fly-halves Jonathan Wisniewski and Wilkinson exchanged penalties until the break, with a drop from the Racing number ten providing the edge.
The second half started without Carl Hayman who had failed to impose himself in the set pieces.
Racing began the second period with bang as Italy international Andrea Masi scored shortly after the restart following Benjamin Fall's counter attacked off a Wilkinson chip ahead. Fall off-loaded to Wisniewski, who put Masi in for Racing's second try.
Wilkinson and Wisniewski continued to knock them over from the kicking tee, leaving the scores at 26-21 to the visitors going into the final quarter.
Racing however struck again when Fijian wing Sireli Bobo snatched an intercept and finished under the posts.
Jaun Martin Hernandez scored his first points for Racing soon after coming on with a penalty on to extend the lead to 36-21.
Toulon's Argentine flanker Juan Martin Fernandez-Lobbe's 73rd-minute try set up a grandstand finish. A late penalty from Wilkinson saves a losing bonus point for Toulon but the home side could do no more and sent the Mayol faith home disappointed for a second time this year.
The scorers
For Toulon:
Try:Fernandez Lobbe
Con: Wilkinson
Pens: Wilkinson 8
For Racing Metro:
Tries: Battut, Masi, Bobo
Cons: Wisniewski 3
Pens: Wisniewski 3, Hernandez
Drop: Wisniewski
Yellow cards: Van Niekerk (Toulon - 10th min - High tackle); Masi (Racing -30th min - foul play)
Toulon 15 Rory Lamont. 14 Gabriele Lovobalavu, 13 Mafiléo Kefu, 12 Rudi Wulf, 11 Paul Sackey, 10 Jonny Wilkinson, 9 Fabien Cibray, 8 George Smith , 7 Joe van Niekerk (c), 6 Juan Fernandez Lobbe, 5 Jocelino Suta, 4 Kris Chesney, 3 Carl Hayman, 2 Sébastien Bruno , 1 Laurent Emmanuelli.
Remplacemnets:Taumoepeau, Basteres, Samson, Missoup, May, Messina, Mignoni, Kubriashvili
Racing Metro 15 Benjamin Fall. 14 Sireli Bobo, 13 Albert Vulivuli, 12 Andrea Masi, 11 Mirco Bergamasco, 10 Jonathan Wisniewski, 9 Jérôme Fillol, 8 Sébastien Chabal 7 Alvaro Gallindo, 6 Antoine Battut, 5 Jones Qovu, 4 Lionel Nallet (c), 3 Benjamin Sa, 2 Benjamin Noirot , 1 Andrea Lo Cicero.
Remplacemnets: Orlandi, Chavancy, Hernandez, Lorée, Cronje, Ghezal, Brugnaut, Arganese