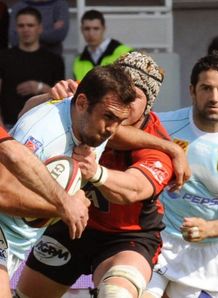 Related links
Also see
Toulon challenge Perpignan for the Top 14 lead as the top four face off while it's all or nothing when Racing Metro host Biarritz in the race for the play-offs.
With just two rounds of the regular season remaining, a number of questions still need answers.
Who will qualify automatically for semi-finals by finishing in the top two? Who will snatch the final play-off spot? Who will join Albi in the ProD2 considering that Montauban still have the possibility of appealing their administrative relegation?
This time last year Toulon were struggling to avoid relegation but their expensively assembled squad are producing the goods and will revel at the chance of thrilling a massive crowd in Marseille against the defending champions and current leaders.
Both Biarritz and Brive are within striking distance of Racing Metro in the final play-off spot and while the Basques travel to the capital to meet their rivals head on, Brive will fancy their chances in Bayonne.
The action kicks off of Friday when Castres play the first of two very difficult final fixtures in Clermont before travelling to Toulouse a week later.
In-form Toulouse will be hoping to take a step closer to a home play-off by picking up a full-house of points away to Bourgoin while Stade Français will be praying for a miracle in Albi.
Still scrapping around trying to find nearly €2m needed to save their bacon (assuming they don't finish thirteenth anyway), Montauban will struggle to set their off-field woes aside when they host Montpellier.
Fixtures:
Friday, April 16
Clermont v Castres
Saturday, April 17
Bourgoin v Toulouse
Montauban v Montpellier
Albi v Stade Français
Toulon v Perpignan
Bayonne v Brive
Racing Metro v Biarritz
Standings:
1 Perpignan 75
2 Toulon 72
------------------
3 Castres 72
4 Clermont 70
5 Toulouse 69
6 Racing-Métro 92 60
------------------
7 Biarritz 57
8 Brive 57
9 Stade Français 53
10 Montpellier 47
11 Bourgoin 45
12 Montauban 45
------------------
13 Bayonne 43
14 Albi 20

________________________________________________________________________
Previews:
Clermont Auvergne v Castres Olympique
Parc des Sports Marcel Michelin, Clermont Ferrand
Third plays fourth with both sides still in with a shout at the top two.
Once again Clermont must find the strength to lift themselves after a disappointment. Just how they lost against Leinster in the HEC quarter-finals is a mystery to many and it'll be interesting to see the reception given to hero-turned-villain Brock James.
A points machine during the regular season, last week's misadventure in Dublin has again raised doubts over the Australian's ability to produce the goods under pressure.
In their last game of the season at home (where they have averaged 40 points per game in their last five outings) Les Auvergnats will be under pressure to get the job done as their final match - a road trip to Biarritz - is anything but a sure thing.
Leaders for most of the season, Castres are facing the prospect of missing out on a place in the leading duo considering their trip to Toulouse next week.
Castres have France's best defensive record, but it's been nearly six months since they won away from home. Was their loss to Perpignan (their first at home this season) last time out a sign of waning form?
Good news for Clermont is that Napolioni Nalaga has recovered from a calf injury to be included on th bench. The only change to the starting XV is Kevin Senio's inclusion ahead of Morgan Parra.
Previous result: 9-9 draw
Prediction: Les Jaunards seldom stumble at Marcel Michelin. Clermont by five
Kick-off:20:45 (19:45 GMT)
Referee: Christophe Berdos
________________________________________________________________________
CS Bourgoin-Jallieu v Stade Toulousain
Stade Gerland, Lyon
A week after defeat in the Challenge Cup quarter-finals, Bourgoin must now concentrate on assuring their survival in top flight. Off the back of two losses, and facing an in-form 'big red machine' the task seems daunting.
In front a crowd far larger than they are used to at Lyon's soccer stadium, Les Berjalliens will need a healthy dose of BMT.
After turning in a classy performance against Stade Français in the H-Cup quarter-finals last week, Toulouse look to have hit top form at just the right time. Guy Novès and his team need a big result this week if they are to host their play-off game, especially considering a tricky game against Castres next week.
Toulouse will be without Yannick Jauzion and William Servat. The French international duo who are obliged to take the week's rest stipulated in the LNR rules that they have been unable to take so far.
Young guns Maxime Médard and Louis Picamoles are doubtful starters with ankle injuries.
Previous result: Toulouse won 41-3
Prediction: Tough to see any other result. Toulouse by ten
Kick-off: 14:30 (13:30 GMT)
Referee: Pascal Gauzere
________________________________________________________________________
Montauban v Montpellier HRC
Stade Sapiac, Montauban
The perennial late-season show-down between Montauban and Montpellier has been soured this year by the former's financial troubles.
Montpellier will travel to Sapiac knowing that victory against their embattled hosts will assure their survival. After handing Albi a hiding last week, les Heraultais will arrive in confident mood.
In stark contrast, Montauban must somehow find a way to forget the saga surrounding their potential administrative relegation because if they can't win on Saturday, they'll probably take the plunge even if the do find the money to balance their books.
The future looks bleak for the green armada as the prospect of liquidation is becoming ever-more possible. The players have gone so far as to threaten calling off their final game - against Bayonne - if a solution isn't found.
Previous result: Montpellier 19-0
Prediction:Expect Sapiac to be twice as intimidating as usual and the home side to resemble a pack of rabid wolves. Montauban to grind out a narrow win
Kick-off: 14:30 (13:30 GMT)
Referee: Mathieu Raynal
________________________________________________________________________
SCA Albi v Stade Français
Stadium Municipal, Albi
Stade Français need two big wins and a miraculous combination of other results to go their way if they are to avoid missing the out on a place in Europe for the first time in their history.
Jacques Delmas will ask his much-changed team to cut loose and try save some face.
The Parisians best hope of qualifying for Europe is probably finishing seventh and then hoping Toulouse earn France an extra spot by winning the tournament.
Despite struggling to get the better of Albi when they met the capital earlier this year, the Parisians will back themselves to do the business against a team with nothing left to play for.
Previous result: Stade Français won 23-18
Prediction: They'll win, but they'll have to fight for it, Stade Français by six points
Kick-off: 14:30 (13:30 GMT)
Referee: David Rosich
________________________________________________________________________
RC Toulon v USA Perpignan
Stade Vélodrome, Marseille
What a clash this is set to be with Toulon eying the top of the table as the leading duo meet on the Mediterranean coast with the winners all-but assured of a semi-final berth.
After storming into the Amlin Challenge Cup semi-finals last weekend and undefeated in seven starts in the Top 14, the whispers of a possible European-domestic double have started.
Of course it's a little early to start counting chickens, especially considering Saturday's visitors from down the coast are the defending champions and current leaders.
Having had last weekend off, Perpignan's fresher legs could be telling in the final weeks of the championship.
But the Catalan's poor away form has plagued them this season. Toulon are unbeaten at home this term, including their last gala expedition to the 60 000 seater Vélodrome (when they beat Toulouse).
Perpignan will be without wing Adrien Planté and scrum-half David Mélé due to injury but lock Remis Alvarez-Kairelis is one of four players fit again.
Previous result: Perpignan won 25-9
Prediction: Expect the hosts to rise to the occassion. Toulon by a whisker
Kick-off:16:25 (15:25 GMT)
Referee: Romain Poite
________________________________________________________________________
Aviron Bayonnais v CA Brive-Corrèze
Stade Jean Dauger, Bayonne
Plenty at stake at Jean Dauger on Saturday as the hosts try drag themselves out of the drop zone and Brive cling onto play-off hopes.
Following the arrival of new Head Coach Christian Gajan, a string a good results got Bayonne's train back on track but losses to Castres and Toulon have put the Basques back into trouble. Their last-day trip to Montauban could be a fiery affair.
For Brive, it's do or die.
They must win or say goodbye to the play-offs. Even if they do win they'll need Biarritz to do the same in Paris. The Brivistes then need to come up with something special against Toulon next week.
Bayonne have been given a boost by the return from injury of full-back Pepito Elhorga and international wing Benjamin Fall.
Riki Flutey's season is over. Another shoulder injury means he will have played just five games for Brive this season.
Previous result: Brive won 19-14
Prediction:We'll back the home side. Bayonne by three
Kick-off:16:30 (15:30 GMT)
Referee: Patrick Pechambert
________________________________________________________________________
Racing Metro 92 v Biarritz Olympique
Stade Yves Du Manoir - Colombes (Paris)
The other big clash of the weekend has the most at stake as a victory for Racing Metro will settle the play-off qualifiers once and for all.
Just three points separate Biarritz from their hosts meaning that a win for the Basques will put both them and Brive (assuming they win) right back in the mix.
The Parisians have lost three of their last four games but Pierre Berbizier's men will know that they must seize their chance as next weeks derby against Stade Français at Charléty offers no guarantees.
If there was any doubt as to how serious this clash is, Racing shut their doors to all outsiders this week for the first time all season.
Biarritz's late-season revival has been impressive and the Basques will head to the capital brimming with confidence after making the HEC semi-finals.
Previous result: Racing won 23-20
Prediction:Racing's home record is worth noting. Racing by four points.
Kick-off:20:45 (19:45 GMT)
Referee: Jérôme Garces