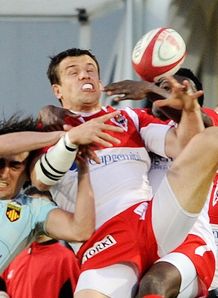 Related links
Also see
With the Heineken Cup on the horizon, the Top 14's big guns will be fine tuning their artillery this weekend. Expect fireworks when Perpignan visit Biarritz.
The title holders took the championship lead with the most impressive performance of the season (by anyone) last week, but face a tough task this week on the Basque coast, where the Catalans have not won in over 60 years.
The weekend's other big game sees headline-grabbing Toulon travel to this season's surprise package, Castres, who are just two points off the top of the table thanks to their mid-week win over Albi.
On the eve of European battle, Toulouse need a boost in morale but have a tricky road trip on their hands as they head to Montpellier, where some other heavyweights have come unstuck this season.
The action kicks off on Friday when rejuvenated Stade Français host Brive, with plenty of Englishman set to be on the pitch and a couple of England coaches in the stands. Just like Perpignan and Biarritz, Stade and Brive will be keen to measure their European form against fellow HEC competitors.
The next day, just a little further North in the capital, Racing-Metro take on Montauban at the Stade de Colombes.
Clermont face Bayonne at home and will be desperate to bounce back from the comprehensive loss to Perpignan, while Bourgoin host bottom-placed Albi in Saturday's late match.
Across the country battles are set to be tighter than ever. In such a closely fought championship this season, tensions are bound to run high but that does not necessarily mean we'll see exciting rugby.
The unfortunate truth be told, the Top 14 has been short on tries this season as illustrated in Toulouse's dour draw with Stade Français last week.
Fourth-placed Toulon, who have already scored 155 points but only seven tries, are a classic example of how drop goals and penalties have become the order of the day. Let's hope things start to open up as the season progresses. The match between Clermont and Perpignan gives us hope - that was excellent.
Fixtures:
Friday, October 2
Stade Français v Brive
Saturday, October 3
Castres v Toulon
Clermont v Bayonne
Montpellier v Toulouse
Racing Metro 92 v Montauban
Biarritz v Perpignan
Bourgoin v Albi
Standings:
1 Perpignan 27
2 Clermont Auvergne 25
3 Castres 25
4 Biarritz 24
5 Toulouse 22
6 Toulon 20
7 Stade Francais 19
8 Brive 18
9 Bayonne 16
10 Montauban 16
11 Bourgoin 16
12 Racing Métro 15
13 Montpellier 13
14 Albi 8
_______________________________________________________________
Previews:
Stade Français v CA Brive-Corrèze Stade Jean Bouin, Paris
Unbeaten in three games, Stade Français are yet to concede a try under Jacques Delmas and Didier Faugeron. As Delmas said during the week, "a good attack can win you games in the championship. A good defence can win the championship.
Stade Français have had no problems scoring this season, if the new coaches truly have sorted out their defensive woes, the Parisians will be tough to stop both domestically and in Europe.
Boosted after a nerve-racking 11-9 win over third-placed Castres last weekend, Brive will be bidding to leap-frog Stade in mid-table. After a disappointing start to the season, it's the kind of morale-boosting result that Brive needed.
"It's a good preparation," Brive captain Simon Azoulai said of his club's visit to Paris, a week ahead of the start of its gruelling European Cup campaign that kicks off against Ospreys and Leinster.
In terms of personnel, their are will be few interesting faces at Stade Jean Bouin. England coaches Martin Johnson, John Wells and Graham Rowntree have flown in to watch the likes of James Haskell, Andy Goode, Shaun Perry, Steve Thompson and Jamie Noon (Tom Palmer is not in the hosts' squad).
Former Stade Français full-back Nicolas Jeanjean is set to start for Brive after singing with the Corrèze club ten days ago but winger Viliame Waqaseduadua and full-back Fabrice Estebanez are both doubtful.
The Parisians have had some rotten luck with injuries but Sergio Parisse is back after serving an eight-week suspension. Pascal Papé is also back after a 20-day ban.
Scotland international Hugo Southwell could make his debut for Paris.
Prediction: Stade Français are incredibly hard to beat at home.Stade Français by seven.
Kick-off: 20.45 (18.25 GMT)
Referee: Christophe Berdos
________________________________________________________________
Castres Olympique v RC Toulon
Stade Pierre Antoine, Castres
Equal on points with second-placed Clermont in the standings, Castres are riding a the crest of a wave of confidence even if their game is still a little rough around the edges.
Off the back of three away losses in their last four games, Toulon have slipped back down the table but have recalled a couple of rested stars including Sébastien Bruno, Joe El Abd, Mafielo Kefu, Luke Rooney and Sinoti Sinoti. Jonny Wilkinson and Pierre Mignoni will start after appearing from the bench last week.
The Varois will be hoping the fresh legs will be able to profit from the fatigue in a Castres team that head into their sixth game in three weeks.
Good news for Castres is the contract extension of Samoan Josefa Tekori, who has inked a new two-year deal.
Prediction: Toulon's form on the road has been pretty poor this year, so we'll back the hosts. Castres to win by six.
Kick-off: 14.30 (12.30 GMT)
Referee: Eric Gauzins
___________________________________________________________________
Clermont Auvergne v Aviron Bayonnais
Parc des Sports Marcel Michelin, Clermont-Ferrand
Very few people expected Clermont to be outclassed in such consummate fashion in Perpignan last week. At fortress Marcel Michelin, expect a backlash from the Jaunards who shouldn't have much trouble in Europe next week against Viadana.
"We have to react, re-discover our concentration and application," said Clermont coach Vern Cotter.
Clermont will also be boosted by the return of utility back Benoît Baby, who hasn't played since late July. Centres Gonzalo Canale and Marius Joubert are however doubtful starters.
Bayonne have lost all five of their away games this season and last weekend's loss to Albi would have been particularly difficult to digest. The visitors will not be helped by news that scrum-half Benat Arrayet faces three weeks on the sidelines with a torn hamstring.
Reports in the French press suggest that Head Coach Richard Dourthe is considering playing Aussie fly-half Manny Edmonds at nine in partnership with Azzuri pivot Craig Gower.
Prediction: The hosts will want to make a statement after last week's disappointment. Clermont by at least ten
Kick-off: 14.30 (12.30 GMT)
Referee: Cédric Marchat
________________________________________________________________
Montpellier HRC v Stade Toulousain
Stade Yves Du Manoir - Montpellier
Toulouse's backs have a lot to answer for. While the Toulousain forwards have been irreproachable, their star-studded back-line has failed to deliver as Guy Novès pushes his expansive gameplan. The result has been a downward spiral in confidence amongst the once all-conquering Toulouse strikers.
A glance at the standings would suggest that Montpellier would making easy pickings for the triple European champions, but home wins over Perpignan, Biarritz and Toulon have proved that Montpol are a very tough nut to crack at Stade Yves Du Manoir.
Toulouse don't have a great record in Montpellier either - losing there on the opening day last season - but a result is vital for the visitors, who need to find some form before the HEC kicks off.
The situation for the hosts is also pretty dire. Last week's loss to Racing-Métro has dropped the Heraultais into the relegation zone.
Byron Kelleher is available for Toulouse again while Montpellier have Mamuka Gorgodze is back in their squad but will be without injured skipper Fulgence Ouedraogo.
Prediction: The time has arrived for Toulouse to come good. We'll back the 'big red machine' to hit their straps. Toulouse to win by five.
Kick-off: 14.30 (12.30 GMT)
Referee: Pascal Gauzere
________________________________________________________________
Racing-Métro 92 v Montauban
Stade Yves Du Manoir - Colombes (Paris)
Bouyed by victory last week which started a run of six home games in eight, Racing-Métro trained behind closed doors this week as South African import Francois Steyn grows more accustomed to his new team-mates. He should start at full-back on Saturday.
So excited were the locals to finally see their team perform at home, Racing have had their knuckles rapped by the LNR for using their stadium's public address system to encourage their side!
After an encouraging start to the season, Montauban are coming off the back of consecutive defeats, including a shocker at home to Bourgoin last week.
Vilimoni Delasau (tore a thigh muscle against Bourgoin), Benjamin Sa, Cédric Rosalen and Régis Lespinas are all missing for Montauban,
Prediction: Racing's season should start to gather momentum. Racing to win by eight.
Kick-off: 14.30 (12.30 GMT)
Referee: Mathieu Raynal
___________________________________________________________________
Biarritz Olympique v USA Perpignan
Parc des Sports d'Aguilera, Biarritz
This is undoubtedly the clash of the weekend as two title contenders go head to head.
Biarritz have put their early season woes behind them as the return of Imanol Harinordoquy and Dimitri Yachvili has coincided with a major lift in form and four consecutive wins.
Biarritz manager Jean-Michel Gonzalez was waxing lyrical about his team after last week's convincing display against Toulon.
"That was our best match of the season, with our best rugby," said Gonzalez.
"We showed that we knew how to make passes to score tries. We beat a great Toulon side by controlling our passion."
Coach Laurent Rodriguez admitted however that Saturday's match against the leaders would be tough.
"When you see what they're capable of doing to a team like Clermont (winning 19-3 last week), their enthusiasm and the cool headedness they display, we know they'll pose us some problems," he said.
Perpignan have not won at the Aguilera in living memory - unless you are a sexagenarian - and in stark contrast to their domination at home, their away form this year has been somewhat dubious - losing in Montpellier and Bourgoin.
Both sides have a number of injuries with Biarritz notably missing English duo Iain Balshaw and Ayoola Erinle.
Perpignan are without a number of players, including Maxime Mermoz, Gavin Hume, Nicolas Durand and Farid Sid, while they have doubts over Gerrie Britz and Nicolas Laharrague. Philip Burger is out for two months with a fractured forearm.
Prediction: It should be a cracker of a game. History suggests a victory for BO despite Perpignan's form. Biarritz by a whisker.
Kick-off: 14.30 (12.30 GMT)
Referee: Patrick Pechambert
__________________________________________________________________
CS Bourgoin-Jallieu v SCA Albi
Stade Pierre Rajon, Bourgoin
Bourgoin continue to shut the naysayers up. Now with the cash crisis that had rocked the club a thing of the past and the licences of 14 players unblocked, Bourgoin have found the winning formula - with Biarritz, Racing Metro and Perpignan all losing at Stade Pierre Rajon.
The situation in Albi has become critical and a win this weekend is an absolute necessity if Eric Béchu's want to keep their hopes of avoiding relegation alive. Their cause will not be helped by the energy-sapping defeat to Castres on Tuesday.
To make matters worse, "medical joker" Lulian Dumitras has joined Albi's long injury list after the Romanian tore a muscle after less than a quarter of an hour in his debut.
Prediction: Bourgoin to win by seven.
Kick-off: 20.45 (12.30 GMT)
Referee: Romain Poite