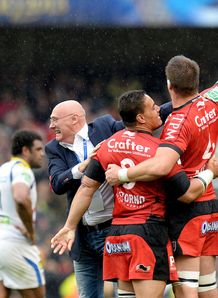 Related links
Also see
Toulon owner Mourad Boudjellal is worried that head coach Bernard Laporte may quit the club after a run of poor form.
The European champions had their pocket picked by Grenoble on Saturday after Alipate Raitini's 78th-minute interception try sealed Toulon's first loss at home for 363 days.
Toulon have lost three out of their last four matches in the Top 14 but top Pool 2 of the Heineken Cup.
Laporte, a former France head coach, has been with Toulon since 2011 and guided the squad to Heineken Cup glory last year.
"I hope the players will be able to regroup. My main concern is whether Bernard [Laporte] will be at training on Monday," Boudjellal told AFP.
"He's disappointed with many things in rugby: the refereeing which sometimes verges on amateurism and the sport which he no longer recognises since he returned to it.
"He's far away from his loved ones [his family live in Paris] and I can tell you that he's had a gutsful."
Commenting on the loss itself, Boudjellal as ever did not mince his words, believing that his squad were too focused on their reputation.
"We're prize idiots," added Boudjellal.
"We've got to get it into our heads that we're no longer European champions, nor of anything else. We're no longer talking about first or second place but to finish in the top six in the Top 14."