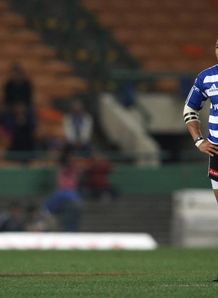 Related links
Also see
There are major semi-final implications when the Cheetahs host the Blue Bulls while a host of returning Springboks will add extra spice to round ten.
Currie Cup leaders the Sharks are sure to be determined to put last weekend's setback behind them this coming Friday, but they will be wary of a Pumas outfit that's full of confidence at home following their shock victory over the men from Pretoria two weeks ago.
On Saturday, Griquas face a must-win fixture against an in-form Lions side in Johannesburg with the loser almost certain of missing out on a last-four place and the victor likely to nudge into the top four.
Western Province are boosted by three Boks for their opportunity to right the wrongs of the past three weeks as they host the winless Leopards.
And finally in Bloemfontein, the Cheetahs and the Blue Bulls will resume their bitter Currie Cup rivalry as positions three and four on the table go head-to-head in the pick of this week's fixtures.
Fixtures:
Friday, 10 September
Pumas vs Sharks
Saturday, 11 September
Western Province vs Leopards
Lions vs Griquas
Cheetahs vs Blue Bulls
Standings:
1 Sharks 36
2 Western Province 28
3 Cheetahs 28
4 Blue Bulls 28
5 Lions 25
6 Griquas 24
7 Pumas 17
8 Leopards 5
________________________________________________________________________
Previews:
Pumas v Sharks
The Sharks were riding high atop of the Currie Cup before they slumped to defeat against the Bulls last week. Peculiarly the scoreline at Loftus was 40-34, a repeat of the Sharks only other defeat of the season - a 34-40 reverse against Griquas on the opening day.
John Plumtree may not be a superstitious man but he will nevertheless be hoping it is a good omen for the rest of the season as his side followed up the defeat in Kimberley with a fantastic run which leaves them now still eight points clear at the summit of the Currie Cup log.
The Sharks coach has opted to shift skipper Stefan Terblanche back to his preferred position at full-back with Louis Ludik battling with his fitness. That means that Riaan Swanepoel gets an opportunity to start at inside centre with Andries Strauss shifting to thirteen.
The end of the Tri-Nations brings good and bad news for the Sharks. Ryan Kankowski makes a welcome return at the expense of the injured Keegan Daniel but Bismarck du Plessis and Beast Mtawarira have been consigned to Bok conditioning for the next couple of weeks, meaning a re-shuffle.
A trip to Loftus is always a big ask and Plumtree, this week named coach of the month for August, will be eager to write off last weekend's loss in Pretoria as a once-off as his side look to secure a home semi-final as soon as possible.
It will not be straight-forward for the Sharks, however. The Pumas' last home game was their shock win over the Bulls two weeks ago at the Mombela Stadium. While Friday's clash is at the Witbank Stadium and not Nelspruit, Jimmy Stonehouse's side will nonetheless be in a confident frame of mind, looking for their third win on the trot.
Team news for the home side is that centre Shaun Venter faces a fitness race before Friday with the only change from the starting XV who beat the Leopards being at full-back where Johan Jackson replaces Nicky Kritzinger. Eduard van der Walt will again be unavailable due to suspension.
Prediction: A tough away fixture will not be easy as the standings would suggest for the Sharks. But with the quality of John Plumtree's side, a bonus-point win in Witbank should prove that the Loftus defeat was just a blip for the Sharks.
The teams:
Pumas: 15 Johan Jackson, 14 Braam Pretorius, 13 Tiaan Marx/Shaun Venter, 12 Ashwin Scott, 11 Allister Kettledas, 10 Elgar Watts, 9 Tian Meyer, 8 Christo le Roux, 7 Torsten van Jaarsveld, 6 Corné Steenkamp, 5 Marius Coetzer, 4 Andries Kruger, 3 Ashley Buys, 2 Hannes Franklin (c), 1 Ronnie Uys.
Replacements: 16 De-Jay Terblanche, 17 Dawie Steyn, 18 Willem Serfontein, 19 Jaco Bouwer, 20 Ricardo Croy, 21 Siviwe Magaba, 22 Sphiwe Sithole.
The Sharks: 15 Stefan Terblanche (c), 14 Odwa Ndungane, 13 Andries Strauss, 12 Riaan Swanepoel, 11 Lwazi Mvovo, 10 Patrick Lambie, 9 Charl McLeod, 8 Ryan Kankowski, 7 Willem Alberts, 6 Jacques Botes, 5 Alistair Hargreaves, 4 Steven Sykes, 3 Eugene van Staden, 2 Craig Burden, 1 Patric Cilliers.
Replacements: 16 Kyle Cooper, 17 Wiehahn Herbst, 18 Michael Rhodes, 19 Skholiwe Ndlovu, 20 Rory Kockott, 21 Andre Pretorius, 22 Louis Ludik/Luzuko Vulindlu.
Venue: Puma Stadium, Witbank
Kick-off:19:10 (17:10 GMT)
Referee: Lourens van der Merwe
________________________________________________________________________
The Lions v Griquas
John Mitchell this week insisted that his high-flying Lions would not get ahead of themselves after four wins on the bounce and an impressive come-from-behind victory over Western Province last weekend.
Mitchell also pointed out that his youthful and inexperienced side have their destiny in their own hands with three more group games left to play.
This week is particularly significant for the Lions as a win would in all likelihood boost them into the top four at the expense of either the Bulls or the Cheetahs who play each other in Bloem. It's also the easiest of the Lions last three games with the Bulls and the Sharks to come for Mitchell.
"It is a tough competition and it will only get tougher because the stakes and the intensity will be higher, so we have to stick to what we are doing," the coach said.
Easy, however, is no way to describe a clash with Griquas. Especially a Griquas side with their backs to the wall, needing at least four points to keep their slim semi-final hopes alive. A loss to the Lions and it would be all but over for the men from Kimberley.
One change has been made by the Lions to the side that beat Western Province at Coca-Cola Park last weekend for the vital match at the same venue.
Lock George Earle has slight concussion and has been replaced by Johan Snyman who was so outstanding against the Leopards two weeks ago.
Prediction: The Lions are on a high at the moment, their credentials will be given a stern test against Griquas and a loss would signify something of a burst bubble. Such is the form and confidence of John Mitchell's side, however, that they should be good enough to extent their winning run and claim victory by at least five points on Saturday.
The teams:
The Lions: 15 Jaco Taute, 14 Jannie Boshoff, 13 Waylon Murray, 12 Doppies la Grange, 11 Michael Killian, 10 Elton Jantjies, 9 Jano Vermaak, 8 Warren Whiteley, 7 Joshua Strauss, 6 Derick Minnie, 5 Franco van der Merwe (capt), 4 Johan Snyman, 3 Ross Geldenhuys, 2 Martin Bezuidenhout, 1 JC Janse van Rensburg.
Replacements: 16 Edgar Marutlulle, 17 Wayne Swart, 18 David Bulbring, 19 Renaldo Bothma, 20 JP Joubert, 21 Burton Francis, 22 Marius Delport.
Griquas: 15 Riaan Viljoen, 14 Rocco Jansen, 13 Wilmaure Louw, 12 Barry Geel, 11 Bjorn Basson, 10 Naas Olivier, 9 Marnus Hugo, 8 Davon Raubenheimer, 7 Justin Downey, 6 Johan van Deventer, 5 Cecil Kemp, 4 MB Lusaseni, 3 Jean Botha, 2 Simon Westraad, 1 Steph Roberts.
Replacements:16 Ryno Barnes, 17 Jacobie Adriaanse, 18 Edwin Hewitt, 19 Burger Schoeman, 20 Sarel Pretorius, 21 Jean Stemmet/Richard Lawson, 22 Rudi Vogt Human.
Venue: Coca Cola Park (Ellis Park), Johannesburg
Kick-off:15:00 (13:00 GMT)
Referee: Jaco Peyper
________________________________________________________________________
Western Province v The Leopards
Western Province may have lost three games in a row but as their coach and skipper have pointed out this week there is nothing to panic about, particularly with three returning Springboks slotting into the Province line-up.
Alastair Coetzee has opted for a complete reshuffle of his back-line due a combination of injury, form and returning Bok stars. Lionel Cronje gets a long awaited opportunity at number ten with Willem De Waal demoted to the substitutes bench after a couple of disappointing outings.
Cronje's game is likely to bring the Province backs into the action more often than De Waal and with the likes of Juan De Jongh, Jean De Villiers and Gio Aplon returning Coetzee will want to make maximum use of his arsenal. De Jongh and De Villiers will continue their Bok midfield partnership while Aplon will slot in on the left wing.
Conrad Jantjies meanwhile is the only player in the back-line who retains a starting spot after the Coca Cola Park loss although he will have to play on the wing with Conrad Hoffmann slotting in at full-back.
Another boost for Coetzee and his injury affected side will be the return of Nick Koster to the back-row. Koster was ruled out of last week's game at the last minute and is a welcome addition alongside Francois Louw and Duane Vermeulen - fresh off being named Currie Cup player of the month.
While Province have not won in three, their opponents at Newlands are yet to win in nine attempts all season and narrowly lost out in probably their best opportunity to do so last weekend against the Pumas.
Fly-half Clayton Durant scored 16 of the Leopards' 26 points against the Pumas and will once again be vitally important to their cause. The visitors have opted for four changes to their starting XV with a complete revamp of their front-row and Cecil Dumond filling in at inside centre.
Prediction: Province may be in something of a slump at present but that will come to a sudden halt at Newlands on Saturday. Looking for a win, Alastair Coetzee's side could have asked for no better fixture to get back on track than a home run against the Currie Cup's basement boys. With a trio of returning Boks Province should coast to a comfortable victory and five log points.
The teams:
Western Province: 15 Conrad Hoffmann, 14 Conrad Jantjes, 13 Juan De Jongh, 12 Jean De Villiers, 11 Gio Aplon, 10 Lionel Cronje, 9 Dewaldt Duvenage, 8 Duane Vermeulen, 7 Nick Koster, 6 Francois Louw, 5 Anton van Zyl (Captain), 4 Adriaan Fondse, 3 JC Kritzinger, 2 Deon Fourie, 1 JD Moller.
Replacements: 16 Callie Visagie, 17 Wicus Blaauw, 18 Brok Harris, 19 De Kock Steenkamp, 20 Yaya Hartzenberg, 21 Willem De Waal, 22 Paul Bosch.
The Leopards:15 Danie Dames, 14 Deon Scholtz, 13 Jovan Bowles, 12 Cecil Dumond, 11 Dumisani Matyeshana, 10 Clayton Durand, 9 Theo van Wyk, 8 Riaan Swanepoel, 7 RW Kember, 6 Wilhelm Koch (c), 5 Anthonie Gronum, 4 Brad Mockford, 3 Aranos Coetzee, 2 Pellow van der Westhuizen, 1 BG Uys.
Replacements: 16 Os van der Walt, 17 Gavin Williamson, 18 Draad Linde, 19 Christo van Niekerk, 20 Worsie Kotzé, 21 Neill Jacobs, 22 Kempie Rautenbach.
Venue: Newlands Stadium, Cape Town
Kick-off:17:00 (15:00 GMT)
Referee: Sindile Mayende
________________________________________________________________________
The Cheetahs v Blue Bulls
There have been some classic and hugely important Currie Cup encounters between these two sides in the recent past and this particular clash is right up there in terms of its importance for this duo's hopes.
With the Sharks and WP facing lesser opposition this weekend, the loser of this Cheetahs-Bulls encounter will be out of the running for a home semi and could even slip into fifth depending on the outocme of the Lions-Griquas game. There is therefore no room for error for both sides, promising a titanic clash in Bloemfontein on Saturday.
The Bulls were all smiles at the return of Bakkies Botha from suspension midweek until the Bok bruiser was ruled out due to some adminisrative bungling, which included Botha amongst the contracted Springboks needing time out over the next couple of weeks. The Pretoria-based outfit have accepted their fate, largely due to the availability of Flip van der Merwe, who is a more than adequate replacement.
Alongside Botha would have been Wynand Olivier but for him also being consigned by the powers-that-be to a period of rest and conditioning. His position is filled by Stefan Watermeyer in the midfield. The loss of Olivier is off-set somewhat by the return of Springbok star Francois Hougaard who will start at number nine. Bok hooker Chiliboy Ralapelle meanwhile will be determined to make the most of a rare start.
Prediction: There is little to choose between these two sides and while the Bulls may have been favourites at Loftus, Bloemfontein is a whole different prospect. Both teams are coming off hard-fought wins and will be in confident mood. The Bulls however, sparked by a returning Hougaard, look the best bet to edge it by three points.
The teams:
Cheetahs: 15 Hennie Daniller, 14 Philip Snyman, 13 Robert Ebersohn, 12 Meyer Bosman, 11 Jongi Nokwe, 10 Louis Strydom, 9 Tewis De Bruyn, 8 Ashley Johnson, 7 Philip Van der Walt, 6 Hendro Scholtz, 5 Waltie Vermeulen, 4 Francois Uys, 3 Kobus Calldo, 2 Adriaan Strauss (capt), 1 Coenie Oosthuizen.
Replacements: 16 Skipper Badenhorst, 17 WP Nel, 18 Izak vd Westhuizen, 19 Kabamba Floors, 20 Tertius Carse, 21 Sias Ebersohn, 22 Corne Uys.
Blue Bulls: 15 Zane Kirchner, 14 Gerhard van den Heever, 13 Jaco Pretorius, 12 Stefan Watermeyer, 11 Jaco van der Westhuyzen, 10 Jacques-Louis Potgieter, 9 Francois Hougaard, 8 Gerrit-Jan van Velze, 7 CJ Stander, 6 Derick Kuün (captain), 5 Juandré Kruger, 4 Flip van der Merwe, 3 Werner Kruger, 2 Chiliboy Ralepelle, 1 Dean Greyling.
Replacements: 16 Gary Botha, 17 Rossouw de Klerk, 18 Jaco Engels, 19 Wilhelm Steenkamp, 20 Okkie Kruger, 21 Dustin Jinka, 22 Stephan Dippenaar.
Venue: Vodacom Park, Bloemfontein
Kick-off:17:05 (15:05 GMT)
Referee: Jason Jaftha