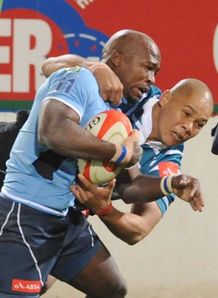 Related links
Also see
The Blue Bulls came from behind to edge Griquas 39-38 in the Currie Cup at Loftus courtesy of a missed conversion from Naas Olivier.
The fight back by the Blue Bulls in the second half produced some brilliant moments, but as in the first half and in previous matches there were too many losses of concentration and neglecting basics.
The Blue Bulls came from 20-7 down to lead 39-33 and were strongly on attack when the Griquas' fourth try came from their own line.
Former Blue Bulls wing Rocco Jansen broke away from his own line and fed Basson who ran in for his third with a relatively easy conversion awaiting Olivier. He missed his first kick, and the Blue Bulls were the victors - perhaps deservedly so after five good tries and a largely impressive second half.
It was full-back Jaco van der Westhuyzen who so nearly lost the game for the Blue Bulls when he ignored the overlap with a try beckoning right at the end and was tackled. The turnover then saw the Griquas' breakaway.
The first half belonged to Griquas. A sloppy Blue Bulls side conceded turnovers, made poor decisions and were out rucked when it mattered.
After only seven minutes Griquas were 10-7 ahead. It became worse for the Blue Bulls as the score mounted to 20-7 after 20 minutes and then 27-7 a further eight minutes into the game.
The Griquas tries came through Richard Lawton who rounded off a move of 50 metres from a ball the Bulls left unprotected next to a ruck, and Basson scored his second on the right side of the field after a first phase backline move. Naas Olivier was on target with all three conversions and also slotted two drops before half-time.
The Blue Bulls had been scrumming well - especially on the two occasions when they were threatening the Griquas line - and were rewarded when a good scrum was reset and then followed by a set-up ruck from where John Mametsa went over under the posts.
The score was then 27-14 with three minutes remaining in the first half and a missed penalty by Jacques-Louis Potgieter on the half-time whistle could not disguise the fact that the control of the game was slowly shifting.
The break was taken at 27-14. Potgieter kicked a penalty shortly after the restart and seven minutes into the second half the Blue Bulls crept closer with a good build-up that was finished off by prop Dean Greyling with Potgieter adding the conversion.
Again, loss of focus cost the Blue Bulls as Griquas broke away from their own line and 16 minutes into the second half Olivier kicked his third penalty.
The Griquas ascendancy was short-lived. The Blue Bulls forwards had regained their composure, and they were relentless as they hammered away at the Griquas tryline. Good defence kept them at bay but Griquas had to wilt and it was Mametsa who was sent over after a full back-line move following the build-up.
It was the bonus point try and despite the conversion being missed the Blue Bulls were ahead for the first time at 32-30.
It had taken them 66 minutes to achieve - and the lead was short-lived as Olivier replied with a penalty from the restart.
Back went the Blue Bulls, and this time it was Bandise Maku who went over as the Griquas forwards again could not withstand the build-up pressure.
Potgieter added the two and the Bulls were 39-33 to the good with six minutes remaining. Then came that fateful try, and the even more fateful conversion.
The scorers:
For Blue Bulls:
Tries:Snyman, Mametsa 3, Greyling
Cons: Potgieter 4
Pens: Potgieter 2
For Griquas:
Tries: Basson 3, Lawson
Cons: Olivier 3
Pens: Olivier 4
Blue Bulls: 15 Jaco van der Westhuyzen, 14 Gerhard van den Heever, 13 Jaco Pretorius, 12 Stefan Watermeyer, 11 John Mametsa, 10 Jacques-Louis Potgieter, 9 Ruan Snyman, 8 Gerrit-Jan van Velze, 7 CJ Stander, 6 Derick Kuün (c), 5 Fudge Mabeta, 4 Juandré Kruger, 3 Werner Kruger, 2 Bandise Maku, 1 Dean Greyling.
Replacements: 16 Henry Bantjes, 17 Bees Roux, 18 Jaco Engels, 19 Wilhelm Steenkamp, 20 Dustin Jinka, 21 Stephan Dippenaar, 22 Okkie Kruger
Griquas: 15 Riaan Viljoen, 14 Richard Lawson, 13 Wilmaure Louw, 12 Matt Rosslee, 11 Bjorn Basson, 10 Naas Olivier (c), 9 Sarel Pretorius, 8 Burger Schoeman, 7 Davon Raubenheimer, 6 Rohan Kitshoff, 5 Cecil-John Kemp, 4 Frikkie Spies, 3 Jacobie Adriaanse, 2 Rayno Barnes, 1 Steph Roberts.
Replacements: 16 Simon Westraadt, 17 Jean Botha, 18 Michael Passaportis, 19 Johan van Deventer, 20 Marnus Hugo, 21 Barry Geel, 22 Rocco Jansen/Rudi Vogt.
Referee: Mark Lawrence