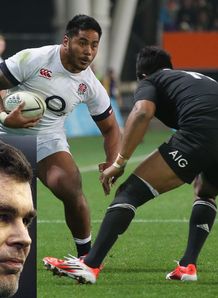 With another round of the June tests done and dusted, only Ireland managed to record a victory, whilst England got as close as they could to New Zealand, as Wales and France suffered defeats.
Planet Rugby caught up with former England number eight Nick Easter for his view on the weekend's action.
"It's easy to look at the scoreboard and say England scored three tries and were within a point of New Zealand," noted Easter.
"However, this was a much more chastening defeat; for 30 minutes of that Test, the All Blacks hit heights that England could not come close to."
Easter believes that with England conceding a vital penalty just before half time, the momentum of the game changed totally at the interval.
"England have talked about ambition, pace and tempo and pretty much implemented those aspirations, but when you see New Zealand play the same way, you realise that, at this moment in time, they're another league away from the rest of the rugby world when the game is played with high tempo allied with accuracy and intensity," he observed.
"It was 30 minutes of the most sensational and unstoppable rugby. The precision was breath-taking and they simply blew us away.
"We had every opportunity to be further ahead just before half time. Stuart Lancaster will be furious that the Manu Tuilagi break didn't result in a try. I have to be critical of my Harlequin team-mate here, but Mike Brown's support line when England had a two on one was an uncharacteristic error from England's player of the season. He needed to be on Manu's shoulder, not running into the midfield channel away from Tuilagi's angle. But Ben Smith to put in the play of the day with his magnificent tackle and subsequent turnover. You could say that that and the penalty just before the break were the turning points, but that would be denuding New Zealand's brilliance and ability to win games by tight margins with the biggest of plays; they were utterly compelling in every aspect. At this level it is all about small margins and contests are turned on little momentum shifts precisely such as these.
"But you have to take the positives and in essence, we played with plenty of character but when they upped their tempo we had no more gears left, I'm afraid," he observed.
"Crucially, the players, who are still learning will now know what levels of performance are required to aspire to be the best. That was benchmark rugby!" he exclaimed.
With the Smiths, Conrad and Ben, running the show, New Zealand's accuracy was nothing short of definitive. The England number eight is a big admirer of the handling skills of the All Blacks, suggesting that their skill set is down to the intuition of a country with the greatest of rugby cultures:
"Both Conrad and Ben Smith were sublime. Conrad's line inside Marlon Yarde for the Nonu try was utterly magnificent, and their ability to perform under pressure and with pace are skills that are utterly intuitive to the New Zealand method.
"Even at an early age, these guys learn to pass with such accuracy, passing into the 'hand space' in front of the player, allowing him to run onto the ball at speed. They look for space, not contact and that's part of their rugby DNA.
"From primary school, touch rugby is THE sport for the kids in the playground. The skills learned here allow great decision making with ball in hand. It makes the player look to avoid the physical challenge and to use guile, pace and distribution to beat their opponents," explained Easter.
"Another aspect that interested me was the contrasting defences of both sides. Given they are both top class defences they employ different methodology. No system is flawless however, and this was seen in some of the tries from the weekend. NZ employ more of a drift defence, using the touchline as a friend when the ball goes wide, whilst England like to take the space with aggressive line-speed whilst watching the ball, not the man. Both Brown's and Ashton's tries wouldn't have been so easy if the Kiwis took the space out wide without worrying about the extra man. Likewise Nonu's try was created by Conrad Smith changing his line ever so slightly but with Marlon Yarde watching the ball the defender couldn't adjust and the dye was cast."
England, experimenting with Tuilagi on the wing, did not look as potent as in the previous week. Easter considers that the midfield lacked a little balance, but also suspects that the team are carrying a few more injuries than is public knowledge:
"I noted Owen Farrell pulling out of a couple of challenges that he would normally relish. He looked as if he was carrying niggles and word is that it may be his knee, and England announced after the Canterbury game that he'd not be available for the third test.
"I can see the same 10, 12, 13 combo that started the first game playing this Saturday given the problems they caused the ABs. It also provides a nice balance with Tuilagi ready to terrorise them at outside centre again," laughed Easter.
"Next weekend is going to be a big ask for the visitors and they need one final push and will be gearing towards it with everything in their resources. Tinkering with selection may prove fruitful and in the backrow, Billy Vunipola will start for sure; he makes himself more available than Ben Morgan who still drifts in and out of games. Joe Launchbury, outstanding all year, looks a little weary and I think Geoff Parling and Courtney Lawes will start. It was interesting to see Kyle Eastmond and Freddie Burns not featuring versus Canterbury in England's win and that underlines my thoughts about changes in the midfield trio."
In South Africa, Wales were blown away by a ruthless Springbok side. Despite the form of Dan Biggar, Easter is very pessimistic for the Principality:
"We've often talked about Warrenball and the fact that Wales need to win that gainline battle to be effective," he mused.
"Yet again, we saw that against the biggest of all international sides, that method simply does not work. South Africa are the schoolyard bullies of test rugby and they'll relish any side trying to take them on in Route One tactics.
"But there's two ironies here. Firstly, the Springboks have far greater subtlety than one imagines. Look at the difference again in handling skills between backlines and the way Liam Williams and Alex Cuthbert blew a great opportunity between them. Could you see the All Blacks, SA or Australia doing that? Not a chance. The other irony is that Wales are moving so far away from the way their domestic game and the running aspirations that have always been present. They have become incredibly prescriptive. Each player is almost a clone of each other and there's none of the counterpoint that the likes of Shane Williams used to provide.
"Shane provided something unique to the collision based monster athletes of the rest of the Welsh backline. Right now it seems there's nobody in that side to do that if Warrenball fails and that's happened a number of times in the last 12 months.
"However, South Africa were impressive. Willie Le Roux is exactly the game breaker Wales would love to have in their ranks and I have to say they show more guile outside of the contact area than Gatland's team could muster," suggested Easter.
In Melbourne, the rugby clichés continued as a totally different France showed up to the team that were decimated by Adam Ashley-Cooper and Israel Falou the week before, as Australia stuttered and spluttered to beat France 6-0.
"Well there's 80 minutes of my life I'll never get back," quipped Easter.
"It was a poor game, with many mistakes and France providing a huge contrast in their efforts of last weekend. The defence lead again by the returning Thierry Dusatoir was in a different class, due to the flanker's ability to win the collision but then crucially recycle himself back into play. Again, he made over 20 tackles and that is astonishing at test level.
"Last week, we discussed the execution and inventiveness of the Wallabies. But a lot of their space and freedom was created by Michael Hooper's havoc at the breakdown. Dusatoir is one of the finest defensive flankers in the world and he nullified the Australian captain by his aggression and clearing around the ruck area.
"Australia were also complicit in their own ineffectiveness. Adam Ashley-Cooper, brilliant last week, made schoolboy handling errors that you simply don't expect from Wallaby backs, one resulting in a botched try. Equally Brice Dullin had the moment to seal a win down under, but predictably the French failed to complete the move, which has been the story of their last few tests.
"On the plus side, France have finally played their best backrow together, one that many judges have been calling for for a long time. However, both coaches will be furious with the lack of precision shown by their respective back divisions."
In Tucuman, Ireland wrapped up a series win in Argentina with a tight-fought battle versus an improved Pumas.
Simon Zebo and Ian Madigan sealed victory for the visitors in a game littered with errors and offences. However Easter believes the game has thrown up a new conundrum for the Irish selectors:
"That was a good win in difficult circumstances," he said.
"What is interesting is that Ian Madigan, coming off the bench, ignited the Irish a little more than Johnny Sexton, despite that brilliant cross kick for Zebo early on. Madigan has been exceptional for Leinster this year and in fairness, Sexton has been struggling for form since the Lions tour. The conundrum for Ireland is could they fit both players into that backline? Madigan offers different threats to those of Sexton and Joe Schmidt has some thinking to do in terms of who starts.
"One thing I would say; that pitch was not up to test standards. With Argentina the new kids on the block in terms of Rugby Championship, they need to be able to produce a surface that's up to test level and that certainly was not."
Looking forward to the weekend, it's pretty much 'as you were' with regards to the test matches, with Scotland replacing the visiting Ireland in Argentina.
Easter believes that the symmetry of the fixtures may well be matched with symmetry of results:
"In truth, I simply can't see Wales or France being anything more than heroic in defeat. There's a big gulf in form in both of those fixtures and I expect the hosts to secure both games comfortably.
"Being very cold-blooded, I could say the same about England/New Zealand too but if we can up our game by 5% in terms of execution, error count and final pass, we may well be in with a chance.
"This is a massive test for England. Win this, they come home on a high. Lose it, and they're looking at four successive test defeats against the same opposition with one left to play in November.
"I said at the start of the series, one win from three should be a realistic expectation; now the team need to go out and deliver precisely that in a game where a huge amount is at stake."
Nick Easter spoke to James While
Nick Easter played 47 tests for England as a number eight with exceptional ball skills and a powerful physical presence. Regarded by many as one of the most influential forces in English Rugby, Easter's career at Harlequins has been rewarded with a benefit in 2014/15. For details, visit nickeasterbenefityear.com