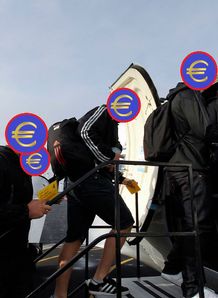 This week we will mostly be concerning ourselves with regeneration, D-days, quantifying support, and a deafening silence...
Anybody wondering how it is that New Zealand manage to consistently produce so very many excellent young players?
We reckon it's through necessity. As Sona Taumalolo revealed his departure for the sunny shores of Languedoc-Rousillon and the fervour of the Catalan masses of Perpignan (was there ever a match more made in heaven), analysts counted the likely departure rate of New Zealand's Super Rugby playing stocks at somewhere around 30 per cent at the end of this year.
That's a bit more than usual - and no doubt fuelled by the fact that there's no World Cup looming for some time to come, but it's a scary stat: pretty much an entire Super Rugby squad.
Yet every year, the Kiwi teams manage to bring through another generation of youngsters. Jimmy Cowan is off to Gloucester, but there's no doubting the talents of Aaron Smith. Taumalolo has spent his last year in Waikato mentoring the imposing Ben Tameifuna. Beauden Barrett has been stellar at times in a stuttery Hurricanes team, Matt Todd is heir apparent to Richie McCaw, Tom Taylor likewise to Dan Carter, Mils Muliaina leaves behind not only Israel Dagg, but now the emerging Andre Taylor as well. The list goes on.
Necessity does fuel the speed at which these players come through, but there's little doubt that at the level just below High Performance, the Kiwis have created a system for youth development, one which is doing something spectacularly right.
---
Meanwhile in South Africa, well though many players are being developed, the politics is still rife.
Sometime in mid-late May, SARU are going to sit down and resolve, once and for all, the thorny issue of the Southern Kings' ill-conceived accession to Super Rugby next year. Unless something monumental is lurking under the surface, that will mean an equally ill-conceived goodbye to one of the existing franchises: most likely the Lions or Cheetahs. In turn, that may mean a boycott of the competition by the SA franchises.
Back in February the existing franchises sent a joint letter sent to SARU, one which made pretty clear one of the entry criteria for the Kings: "That none of the existing franchises shall be prejudiced by such inclusion [of the Kings] in any way whatsoever; That none of the existing franchises shall be eliminated from the tournament in 2013 or at any stage thereafter as a result of the inclusion of the Kings."
But with SANZAR refusing point blank to entertain the notion of an extra team, there's little other choice, beyond turning to the Kings and saying 'sorry'.
The undue pressure the whole scenario has added to that already on a battered and out-of-form Lions team has been immense, while the Cheetahs have been nobly fighting the perennial struggle against scepticism. But for either of those teams to be cut would cleave South African rugby in two. Africa's financial capital without a Super Rugby team? No top-level rugby in the Free State?
Whoever made that promise to the Kings is going to find a number of chickens home to roost in the next couple of weeks...
---
How do you measure support for your team? According to a group of boffins tasked by Premier Rugby, it's through measuring heart-rate, anxiety levels and hormone levels in saliva.
Fans of the Aviva Premiership teams have been tagged and tested all season long for an experiment run through the University of Bath.
Director of research for psychology Dr.Mark Brosnan said: "All the tests were formulated and set up to give the best indication of the stresses and emotions fans go through when watching a game of rugby.
"There's no doubt that the more passionate you are about a team, the more involved you will be on an emotional level - and this is exactly what this experiment found. We were surprised by just how passionate some of the fans were. Some of the surges in heart rate and testosterone are the biggest we have seen.
"Previous research has examined these factors in players - and it's fascinating to see that fans go through similar psychological and physiological processes as the players on the pitch".
According to the tests, the most passionately-supported team is Gloucester (which must have stuck in the throat a bit at Bath Uni) while the least was Saracens.
But was it down to just passion? Or was it Gloucester's late-season collapse that raised the tension levels, Saracens' monotonous kicking game which pacified their spectators? Either way, it was a surprise to find those Tigerish masses from Leicester languishing in sixth... expect a response when Saracens come to town this weekend!
---
Finally, a lot of people have mentioned this in conversations over the past month or so, but there's been so little press: what's going to happen to Argentina?
The Pumas team consists almost exclusively of players in Europe, meaning that contracts all over the place are going to have to be re-written, asked for exemption from or torn up if Argentina are going to have a competitive team in the looming Rugby Championship.
We know only thus far that Ignacio Mieres is staying at Exeter despite his probable commitments, while Horacio Agulla could not agree terms with Leicester and so is leaving Welford Road. Juan Martin Hernandez and Juan Imhoff have signed a three and two-year extensions respectively at Racing-Metro.
French clubs with Argentineans in - Montpellier in particular - presumably have the squad depth to make a plan and accommodate, but there's been scant information to be found on the Pumas' structuring of their squad and player availability for the months ahead.
Given the hope with which the news broke that Argentina could now have meaningful annual competition, we are now left hoping that all is indeed under control and we'll see the strongest possible squad in August and September.
Loose Pass compiled by Richard Anderson