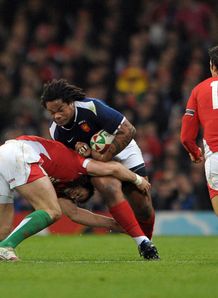 Calling all coaches, parents and players! Planet Rugby and RuckingBall.com have teamed up to bring you a regular new coaching feature.
RuckingBall.com is an innovative new site established to overcome the problems that many parents and young players have in getting the right advice and development plan to become the best that they can be.
In regular "Ruck and Learn" features on Planet Rugby we'll be bringing you advice from experts like former British and Irish Lions loose forward Martin Corry, former Ireland and current USA Eagles Coach Eddie O'Sullivan, world-famous kicking coach Dave Alred and Wales centre Jamie Roberts, amongst others.
We start off with the most important part of building any winning team - a solid defence. Next week, we'll have a masterclass in scrummaging from Springbok Cobus Visagie.
The Blitz Defence
By Jamie Roberts
During this year's Six Nations, I was given the responsibility of leading, or skippering, Wales' defensive efforts, which is a key part of the modern game. I wanted to talk a little bit about how we defend and how you unlock a defence.
Now, for the youngsters reading there are basically two types of defensive patterns or techniques that International sides employ:
1. Drift defence - this is basically where the side comes up as one and looks to push the opposition across the field laterally, using the openside touchline as a 16th man (or defender), aligning yourself with the inside shoulder of your opposite number and not allowing the opposition over the gain. Whilst effective, it's a waiting game and a slightly more passive form of defence. Most international sides employ this, including England, New Zealand and Australia.. Keys are to remain square on, inside shoulder dominant and to use the touchline as a 16th defender.
2. Blitz defence - this is when the defending side drive up at pace into the faces of the attackers, looking to cramp them for room and speed, standing outside their opposite number in terms of alignment. South Africa and Wales are the key proponents of the Blitz at international level. It's a very active and aggressive form of defence, more so than the drift which is about waiting for, rather than forcing, the errors.
As the defensive skipper, what I am looking for is to get the line speed working and get my colleagues up quickly and powerfully in the faces of the attackers. Getting momentum and advantage is key. It's also absolutely imperative to stand outside your opponent, and if they want to step in, the defender inside you will pick that man up. It's about us getting 'up and in'- up to the line and in towards the attacker with the ball.
The other absolute keys are the roles of the full-back and scrum-half. With a fast blitz, the openside defending winger will get up very quickly, leaving a potential space behind him. A good full-back will track and corner flag perpetually to prevent the cross-field kick by the ten or a grubber kick behind the winger. The scrum-half will act as a terrier around the breakdown, marshalling and sniping, and most of all, making sure that the side of the ruck has got someone guarding it.
Whilst the Blitz is the primary Welsh defensive method, there are times when we have to revert to a drift- normally when numbers are tied into rucks and we do not have enough people to blitz and therefore we have to draw in our horns. We have special calls for that, and I'll be monitoring the plays to make that change or switch depending on the game conditions.
So that's a basis of what is going on - sharp, aggressive full-on blitzing! What is equally important is understanding how to unlock a blitz defence and what the opposition will aim to do, and this is what I will now focus on.
There are basically 3 or 4 direct tactics to combat the blitz:
1. Running straight and committing numbers of defenders - this causes a lack of cover defence and, with numbers lacking, the defenders will probably switch to a more passive drift.
2. The inside pass - with the Blitz trying to get up at pace, if the blindside wing or another strong runner enters the line from deep and at pace onto a short pass, the blitz can be wrong footed. A really good example of this is Chris Ashton's work against us this season.
3. The grubber or chip - i.e. a short kick - again, the blitz is coming up quickly, so making them turn to defend is a good strategy. A grubber behind the defence with team-mates running onto the grubber can cause havoc. A chip kick and collect by a fly-half or centre is equally effective
4. The cross field kick - again with the wingers coming up and blitzing at pace, the cross field kick from the 9, 10 or 12 will make them turn to defend - which takes time. If the defending full-back is slow to react, it's a very difficult tactic to defend against and very attractive when it comes off!
I really hope that gives an insight into the thinking and what we try to achieve with our method of defence.
Any questions, fire them onto the forum and I'll be sure to answer them.
Cheers all,
Jamie
Planet Rugby and RuckingBall.com bring you this technical piece in collaboration. For more coaching articles or to talk to Martin Corry, Jamie Roberts and our other experts, please visit RuckingBall.com Those signing up before 10th June using referral code JW will get a free upgrade worth £18 ! Those signing up after June 10th, using code PRC, will automatically enter a draw to win £200 of Samurai training kit.