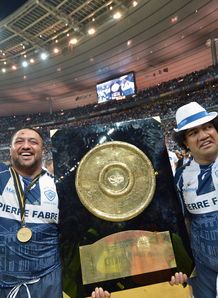 With the new Top 14 season kicking off this weekend, we preview the prospects of each of the competing clubs.
Toulon
Step by step Toulon, have grown into giants of the game in both France and Europe. With a style of rugby based on power and speed, Toulon may be loved or hated, but definitely feared. RCT started last season incredibly well with 15 victories in 17 games. Despite their Heineken Cup crown, the disappointment of the narrow defeat in the Top 14 Final still haunts the Toulon faithful. This season, 'Mad' Mourad Boudjellal has one ambition: the French-European double.
Toulon's European pool (Glasgow, Exeter, Cardiff) will probably not be a huge challenge and they have arguably the strongest squad in the French championship.
Once again Boudjellal and Bernard Laporte have hit the transfer market hard with players from all other the world coming in: southern superstars (Drew Mitchell, Bryan Habana, Ali Williams), European signings (Martin Castrogiovanni, Micheal Claassens) and French veteran (Benjamin Noirot).
Many French players that were struggling for game time have left (Geoffrey Messina, Benjamin Lapeyre, Laurent Magnaval, Mickaël Ivaldi) meaning the club now has a very small margin left to recruit foreigners (they are limited to 45 percent).
Prediction: 1st
---
Clermont
Should Clermont see the glass as half-empty or half-full? Top of the standings at the end of the regular season last time out and with the best defence and the best attack, Clermont have a solid base on which they can build on. They looked very fluid last season and were probably at their best in Europe. Unfortunately les Jaunards once again failed in their mission of bringing silverware back to the Auvergne. The physiological blow was massive. Vern Cotter declared: "I regret trusting some players", and was rumoured to have resigned from his position to join the Scottish national side before it was confirmed that he will be around for one last season.
A tough campaign awaits as the arms race in France means a handful of other team have the resources to challenge Clermont, who have (again) also been drawn in a deadly Heineken Cup pool with Harlequins, Racing Metro and Scarlets.
Recruitment wise, even after Cotter's complaints, only two new players have arrived - scrum-half Thierry Lacrampe from Castres who will have to fight to be number two behind Morgan Parra, while utility back Gavin Hume is a medical joker for Mike Delany. The departure list is much longer with the likes of David Skrela, Anthony Floch and all Kevin Senio moving on.
Stability is an obvious advantage but this team is starting to age in certain positions (lock, loose forwards, Aurelien Rougerie is almost 33...). Is this the last year of a golden generation?
Prediction: 2nd
---
Racing Metro
Last season was a real rollercoaster for Racing. Eleventh at Christmas, they pulled themselves back to the sixth position after a series of nine consecutive victories. That experience may be very useful for this season.
Racing's core group has learnt know how to cope with defeats. The team has shown that it has cohesion, strength and a forward pack on which to base their efforts.
So far Racing are on the podium... in terms of recruitment that is. Ronan O'Gara (kicking coach), Jonathan Sexton, Wenceslas Lauret, Dan Lydiate, Soane Tonga'uiha, Jamie Roberts, Juandré Kruger and Marc Andreu have all joined the club; a whole new team is going to be reconstructed - but what a team it will be! Considering the vast sums of money splashed out, a position in the top four will be expected.
The Heineken Cup may be a step too far as Racing share their pool with Clermont, Harlequins and Scarlets, so focussing on both fronts will be tough.
Racing's stalwart players, the ones that brought them up from the ProD2 are leaving in droves. Andrea Lo Cicero, Johnny Leo'o, Alvaro Galindo, Benjamin Noirot have all exited after years of loyal service. Are Racing entering a new era?
Prediction: 3rd
---
Toulouse
Any campaign that doesn't end with a cup is a failure for the most decorated club in both France and Europe. Toulouse will want to move on and forget what was a disappointing season.
An analysis of last season will have identified an over-dependence on unreliable goal kickers and a rusty offensive game as weak points.
Toulouse still possess a very good team with internationals in every position and will play a key role in the struggle for the title. Their Heineken Cup pool - Connacht, Zebre, Saracens - shouldn't be a huge distraction either.
Manager Guy Novès has used last year's results to continue his crusade against the calendar problems that disadvantage teams with a lot of French internationals and has changed his recruitment strategy accordingly. Some promising French players have been signed (Yacouba Camara, Jean-Pascal Barraque) but stocking up with foreigners is the order of the day (Iosefa Tekori, Hosea Gear and Chiliboy Ralepelle have all arrived).
On the departure list there are a handful of iconic players (Jean-Baptiste Poux, Jean Bouihou, Yannick Jauzion) and disappointing recruits (Luke Burgess, Gary Botha, Sylvain Nicolas). Will this year be one of redemption or a continued slide down the standings?
Prediction: 4th
---
Montpellier
Constantly improving, Montpellier may join Clermont, Toulon and Toulouse in the "top gun" category. The club is flourishing and has now the means to buy big names. Their combination of speed and grinta troubled many defences last year and MHR demonstrated they could beat big teams regularly with at least one victory over each team in the top six.
Last year's Heineken Cup quarter-final confirmed Montpellier's progress and their taste for the European competition is growing. That said, Fabien Galthié's squad is still a limited in comparison to pool rivals Leicester and Ulster and Treviso are no pushovers either. This may force the Galthié to pick a competition to focus on.
A big recruitment push has bolstered Montpellier's ranks. Old names of the Top 14 such as Antony Floch, Nicolas Mas, Robins Tchale-Watchou will be joined by quality players from around the globe in Jim Hamilton, Rene Ranger, Wynand Olivier, Sitaleki Timani and Robert Ebersohn
The club may have won in quality, but has lost in quantity. No less than nineteen players will leave the club - a massive exodus. Some departures such as those of Augustin Creevy, Ali Fakaté or Julien Tomas may seem particularly painful, but they are the results of careful planning.
Prediction: 5th
---
Castres:
For a time it seemed that Castres were stagnating but after years of upsets in the play-offs, CO finally made it to the grail in 2013. Quite unexpectedly, Castres showed they was capable of beating the two best teams in Europe -Clermont and Toulon - in a week. Their game of power and territorial occupation was orchestrated by the genius of top players such as Rory Kockott, Brice Dulin and Marc Andreu.
But after weeks of celebration, beware of the hangover. Castres may be the titleholders, but they remain outsiders for another victory, especially after the departure of coaching duo Laurent Labit and Laurent Travers to Racing Metro. The two Laurents were the essence of Castres' success this year and many wonder if Matthias Rolland, the recently retired player, will be able to do as well as the departed duo.
Even making the play-offs won't be easy as the likes of Stade Français, Perpignan, and to a lesser extent Bayonne, will want to claim a spot while Montpellier and Racing have stocked up on some very big guns.
As for the Heineken Cup, it's fair to say that Castres has one of the hardest pools with Leinster, Northampton and Ospreys for company. Once again they are likely to focus on the domestic front.
To compete with the other big teams Castres have recruited intelligently. To add to the big names of Scotland lock Richie Gray and Remi Grosso (the Pro D2 top scorer), all the new signings are players with huge potential, with Julien Tomas and Cedric Garcia just two of those waiting to shine. However, the loss of financial benefactor Pierre Fabre, who passed away in July, is their biggest concern while the departures of Josefa Tekori and Andreu are also massive blows.
Prediction: 6th
---
Stade Français
Last year the Parisian club declared their intention of finishing in the top six and that objective hasn't changed despite finishing a disappointing 11th last time out.
Stade Français will be hunting for a spot in the play-offs and most important for the club's finances, qualification for the European competition next year.
Stade Français have the weapons: a positive record at home, a good offensive game, the brand new Jean-Bouin Stadium and a great coach, Gonzalo Quesada, who arrives from neighbours Racing Metro.
A proponent of the jeu de mouvement, Quesada may be the perfect fit for the club. The problem is that after years of disappointment, yet another Stade Français clean-out of playing and coaching staff needs to be accompanied by the mental strength to grab a spot in the play-offs. The ability to win outside of the capital is top of their list of requirements.
They will be expected to easily top their Amlin Challenge Cup pool (they're grouped with I Cavalieri Prato, London Irish, Olympus Rugby XV Madrid).
Six star players will be at the forefront of the Parisian push are Digby Loane, Morné Steyn, Richard Kingi, Heinke Van Der Merwe, Davit Kubriashvili and Meyer Bosman.
Apart for the tragic/comic incident of ex-forwards coach David Auradou refusing to leave, the departures will not have hit the club hard. Most of the players leaving failed in convince during their time in blue and pink (think Gavin Williams, Paul Warwick, Paul Sackey, Nicholas Bézy, Stan Wright, Francis Fainifo, Morgan Turinui) or were retiring like Felipe Contepomi.
The balance of imports vs exports seems to be positive.
Prediction: 7th
Perpignan
The story of the USAP is one of constant struggle. One of few remaining clubs that have never been relegated, the 2009 champions have toiled in recent years.
To cure the club's woes, the board decided to revolutionise Perpignan's style of rugby last season. From a very tough and defensive team, the Catalans have evolved towards an offensive and attractive approach thanks to coach Marc Delpoux.
But the club is struggling to compete financially. Perpignan have thus made another revolutionary decision and have become the latest club to welcome a new millionaire president. All the ingredients are in place for a brighter future, but the change is late and USAP are well behind the rest of the pack.
The Heineken Cup offers a real opportunity for Perpignan. In a very accessible pool (Munster, Edinburgh and Gloucester) the 2003 European runners-up can be competitive.
Their recruitment unfortunately does not seem to have - at least on the paper - adequately dealt with Perpignan's losses and new ambitions.
Camille Lopez, Tommaso Bienvenuti and Dewaldt Duvenage are great players, but their additions may leave USAP a bit short of what's required to challenge at the top of the league given the quality of those players that have departed; including Nicolas Mas, Robins Tchale-Watchou, Adrien Planté, David Mélé, Jéremy Castex and Farid Sid.
Prediction: 8th
---
Bordeaux-Bègles
Surprisingly, Bordeaux's first year in the elite was significantly easier than the second. 8th two years ago, 12th last year, UBB were made to fight for survival but have come out a stronger side as the young club continued to grow.
First the scrum must be reinforced. Second, they need a good start - or at least a trigger to spark some momentum like last season's 41-0 victory against Toulon. Third, they must develop the self-belief required to ensure that points at home are secured on a regular basis.
The Challenge Cup shouldn't be an objective for Bordeaux, who will have to concentrate their energy on the Top 14, but if their survival is not threatened domestically it could be interesting to see how far they can go.
To bolster their scrum, les Bordelais have recruited Benjamin Sa, Conrad Marais, but most importantly French international prop Jean-Baptiste Poux (42 caps) and have also added some promising prospects in the likes of Pierre Bernard, Thibault Lacroix and Ali Fakaté.
The biggest blow of the off-season is the loss of international fly-half Camille Lopez. All the other players leaving have not been up to scratch and will mostly join Pro D2 clubs. The turnover has been massive but overall, Bordeaux should have a stronger squad.
Prediction: 9th
---
Bayonne
After years of megalomania in Bayonne, the boardroom seems to have finally stopped wishing for the impossible. This time around the Basques have been pragmatic, sure of their strengths and patiently constructed a more offensive system around their key players like wing-turned-centre Joe Rokocoko, Mike Phillips, Scott Spedding and Marvin O'Connor.
After fighting for survival for a few seasons, last year's good results suggest that relegation is no longer a threat, but the top six seems even further away. So what can we expect of Bayonne? Mid-table beckons.
Bayonne will have to be patient, and probably wait until next year to qualify for the Heineken Cup, which has long been an elusive target.
A back-door into the Heineken Cup via the Challange Cup is unlikely since Bayonne have unfortunately been handed a hard pool with Grenoble, Wasps and Viadana.
Recruitment has focused mainly on picking up players from relegated clubs (Saïmoni Vaka, Jean Monribot, Gert Muller, Opeti Fonua - all from Agen) but there are three big names amongst the new crop; former Crusaders and Blues fly-half Stephen Brett, scrum-half Mathieu Bélie from Racing and place-kicking Argentina wing/full-back Martin Bustos Moyano from Montpellier.
The departures shouldn't be too penalising although the some will find it very sad to see a big player like Cedric Heymans retiring or ex-captain Marc Baget leaving the club. A few promising young players such as Cedric Garcia or Walter Demaison are also leaving. But overall, Bayonne will probably be pleased with their off-season trading.
Prediction: 10th
---
Grenoble
The club at the foot of the Alps will have back up the excitement they generated last year when they were ranked 5th for two rounds and amongst the play-off places for large parts of the season.
Displaying outstanding solidity in the first few matches, Grenoble seem to lose their fighting spirit for the final games of season once relegation had been avoided.
This year the club will have to fight for survival - many predict a very tough second year a bit like Bordeaux's. One common trend amongst relegated clubs is an inability to win at home. Grenoble showed last term that the Stade Lesdiguières is a true fortress, after only losing twice there in the whole season.
The Challenge Cup up will be probably a drain of energy for Grenoble. In a pool with Bayonne, Wasps, and Viadana, they shouldn't expect much.
There has been some careful recruitment, mixing Super Rugby players (Dan Palmer, Peter Kimlin), confirmed D2 players (Julien Caminati, Matthieu Lorée) to some experienced heads (Olly Barkley, Nicolas Bézy, Benjamin Thiéry).
But the departures of key players such as Lucas Dupont, Jonathan Pélissié or Joaquin Tuculet could destabilise the group.
Prediction: 11th
---
Oyonnax
111. This number is enough to explain why big things are expected of Oyonnax. 111 points in 30 games made for an outstanding average of 3.7 league points per game en route to the ProD2 title. Oyonnax trashed everyone, including huge favourites Lyon.
Grenoble and Oyonnax share many similarities; a solid defense, excellent home results (unbeaten) and an excellent start of the season with a series of 13 consecutive victories. Even when the club had not been officially promoted, Oyonnax started preparing for next season in the top flight. Therefore, they will be well prepared.
A very powerful team, l'USO will have to find other ways to dominate their opponents, but coach Cristophe Urios has had plenty of time to work out his plans. The priority will of course be to avoid relegation.
Oyonnax's Challenge Cup pool looks tough with Biarritz, Sale and the tenacious Worcester, so don't expect much.
The two types of players that promoted teams usually recruit are young cubs and old wolves, preferably from Top 14 teams.
Urios has recruited a mixture. Experienced players from France (Ruaan Du Preez, Guillaume Boussès) and abroad (Viliami Ma'afu, Neil Clarke), players from big clubs (Damian Browne from Leinster, Nicolas Vuillemin from Clermont) and relegated clubs (Silvère Tian and Jean-François Coux from Agen). An explosive mixture?
Most of the players leaving have joined a D2 or D3 side (Yann Resseguier, Julien Audy) and will not be huge losses. But Fabien Laurent's departure to another promoted club, Brive, is regrettable as he was one of the Oyonnax's most important players.
Prediction: 12th
---
Biarritz
In the last five years it seems that Biarritz have been progressively sinking lower and lower down the league. Last year they even finished behind Basque rivals Bayonne in the rankings.
After years of domination in the Pays Basque, it seems the hierarchy has changed.
Biarritz will try and bounce back from the dead as they always have in the past - they still have the capacity to win games, even leading the early-season standings last term and if they can keep some sort of consistency and work their occasionally appalling offensive game, the Basques could surprise clubs aiming for the top six.
The problem is that the club seems incapable of improving its rugby in the long-term.
Heineken Cup qualification is probably beyond their dreams, but the Challenge Cup could be a good way into it for next season. But, like Bayonne, their pool is not the easiest with Sale, Worcester and Oyonnax. To survive, Biarritz may well have to abandon the Challenge Cup.
Their recruitment is of unequal quality. Stormers full-back Joe Pietersen is the figurehead of the newcomers and has the advantage of knowing the Pays Basque having played for Bayonne. Paul Perez has been doing very well with Samoa, and is a safe bet.
But the rest of the recruitment is made of D2 players. Alexandre Menini, Joshua Furno, Addison Lockley, Daniel Waenga are all young but unknown to the larger public.
The players leaving were all important in Biarritz. The two youngsters Wenceslas Lauret and Jean-Pascal Barraque are knocking on the door of the French squad (Lauret has already been capped) while Dane Haylett-Petty and Marcelo Bosch were key figures in the Biarritz back line. Veterans Benoit August and Jerôme Thion will be deeply missed in a season that looks set to be their toughest ever.
Prediction: 13th
---
Brive
One year and then back again. Brive went from the nightmare of relegation to the joy of promotion in one season, and with many benefits too.
Financially the club is more secure and stable. Brive have long built their success on a very efficient defence - they even had the fourth best defence in the Top 14 the year they were relegated.
Brive also showed incredible mental strength last season after a catastrophic start and managed to steal second place from La Rochelle in the last two rounds.
In addition, the club's vast experience of the Top 14 will no doubt be very useful. But unlike Oyonnax, Brive were far from assured of promotion, having come through the playoffs, so have not had the same preparation as their rivals.
Brive's Challenge Cup pool is ideal - an Italian club (Calvisano), a Romanian club (Bucharest) and an English promoted team (Newcastle). But les Brivists should be careful. When they were relegated, Brive had reached the semi-finals of that same competition and used a lot of energy on a lost cause.
Brive have signed several interesting players like Gaëtan Germain, Damian Neveu and Kieran Murphy, whilst also bringing in some veterans like Alfi Mafi or Thomas Sanchou. So overall, recruitment has been good.
However, the losses of star back Julien Caminati and playmaker Poutasi Luafatu will be sorely felt; as will those of Davit Khinchagishvili and ex-English international Jamie Noon.
Prediction: 14th
By François Valentin and Ross Hastie