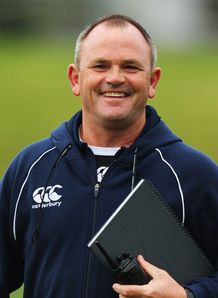 Related links
Teams
Also see
Centre Paddy Wallace has paid tribute to the impact coach Mark Anscombe has had at the province since joining Ulster from Auckland in pre-season.
Many were surprised when it was announced that Brian McLaughlin would move aside after guiding the outfit to the Heineken Cup final in 2011/12.
Anscombe, who had enjoyed success in New Zealand, was seen as a relative unknown in Northern Ireland but that has swiftly changed.
"Mark has come in and done a fantastic job," said Wallace.
"We basically swept last season under the carpet and have drawn a line under reaching the Heineken Cup final and focused on the future and that has served us well so far.
"The thing that strikes me is the strength in depth that we have got at the club, everywhere you look on the pitch there is quality, in both the backs and the forwards.
"Paul Marshall has been in superb form so far this season but he didn't really get a game at the weekend and that just shows the options we've got.
"We've been very happy with the form we've shown this season, you can't really ask for more than five wins - winning games breeds confidence and that's obvious for us at the moment."
It has been a difficult period for Ulster during the early-season following the tragic death of team-mate Nevin Spence and while it was an upsetting time in the community, Wallace believes that the squad are playing with greater sense of responsibility and togetherness.
"I think it has kind of rallied us and brought us closer together," added Wallace.
"But then each player and each individual will deal with it in a different way.
"We've got his name on our shirts and he will always be in our sub-conscious on and off the field, but you do have to move on from it and get on with things.
"As a rugby team, that's what we've had to do on the pitch and what we will try to continue to do."