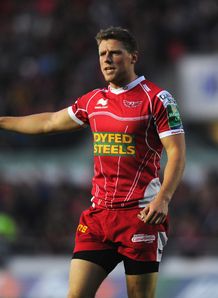 Related links
Teams
Also see
Leicester Tigers boss Richard Cockerill has revealed that the club have a number of targets in mind to replace Toby Flood.
Flood is out of contract at the end of the season and is yet to decide whether to stay with Leicester or move to the Top 14.
As a result Cockerill said that Leicester are weighing up moves for a number of potential fly-halves for next season, including Gloucester number ten Freddie Burns and Wales fly-half Rhys Priestland.
"It's no secret that Toby Flood has not re-signed and he is looking at what he does," Cockerill told the Telegraph.
"It would be remiss of us not to go out there and see what is in the market. Freddie Burns is out of contract, Rhys Priestland is out of contract and there are one or two players out of contract in the Southern Hemisphere and in France, so we are looking at lots of people.
"The regulations state that from Jan 1 we can have those conversations. But if those guys are out of contract on Jan 1, certainly in the Premiership, we will be having those discussions if it's the right thing to do."
Cockerill stated that the club were happy to allow Flood enough time to come to a decision, but also warned that the financial allure of playing in the Top 14 would not make the England international a better player.
"By early in the New Year we need to know what Toby is going to do," added Cockerill.
"That's not because we are putting the heat on him, it's because, if he is not going to stay, then we need to find another person or spend that money on a different position, whether that's full-back or a wing.
"It's not decided that Toby is going to leave. We are talking contractual things - money and terms and other things - and he needs to see where that lies. He has been very professional, he's not a hard-ball guy, and he's very sensible.
"He's 28 and if he thinks his England career is over or he is not going to be first choice for England or get the opportunity to be first choice for England and if he wants to cash in by going to France I can understand that.
"Like most things in life you don't get something for nothing. If someone pays you a lot of money they will get their money's-worth, whether that's to the detriment of the player or your ability or your body.
"I know because I have been there and done it. All that glistens is not gold all the time. Jonny Sexton will not be a better player for being in France. He will be a wealthier player but he will not be better. That's the way it is and the sooner you realise that, the better."