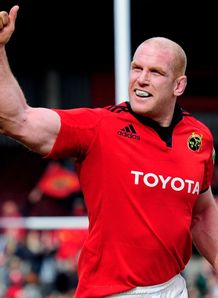 Related links
Teams
Paul O'Connell concedes that he regrets not playing outside of Ireland and will look to coach abroad once his playing days are over.
The 33-year-old has spent his entire career with Munster, notching up nearly 150 appearances in a spell that has seen him twice lift the Heineken Cup, once as captain.
However, while the second rower has achieved much success - and satisfaction - both domestically and with Ireland and the Lions, he concedes that he harbours some regrets about not having a run at an overseas club - something he plans to do once he enters a career in coaching.
"I would like to play or coach abroad," O'Connell told the Rugby Paper.
"One of the things is that I've only ever lived in Limerick all my life. Even though I was involved with Munster through the great years when we were winning Heineken Cups, it is a bit of a regret of mine.
"I could have taken the opportunity rugby would have given me to play abroad, but it would have been very hard to leave. But I'd have no problem doing what Rog [Ronan O'Gara] did and move abroad to coach."