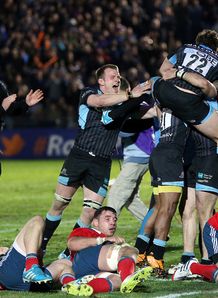 Related links
Teams
Also see
Glasgow head coach Gregor Townsend described his side's 16-15 Pro12 semi-final win over Munster as the pinnacle of his coaching career.
The former Scotland fly-half's team became the first Scottish side to reach a Pro12 Final with their narrow success at Scotstoun.
Only a single point separated Glasgow from glory or disaster, but Townsend was left beaming by the outcome.
He also insisted that their work was not done, ahead of the final in Dublin in two weeks time.
"That is the proudest moment of my coaching career, without a doubt," said Townsend.
"To be involved in a game like that, when the players put everything into it but also show skill and talent, is fantastic.
"Munster played top-quality rugby. They came right at us and were 7-0 up when we had the wind behind us.
"We knew it would be tough but we played well too. It was important that we got ourselves ahead because Munster have been in these kind of situations a lot over the last 15 years and when they get in front, it's very tough to get it back.
"We just had to keep our discipline. When our lead was cut to just a point, we could easily have given away a penalty just for going offside and cost us the match. But the effort in defence to keep them out was superb."
"We're not finished yet, we still have work to do.
"Thankfully we now have two weeks left because if it had been next week, we would have found it tough putting out a team. We have a few bumps and bruises but with a fortnight to prepare, who should be okay."