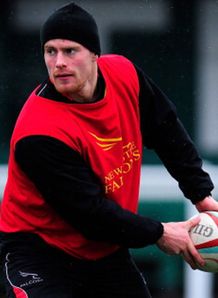 Related links
Teams
Edinburgh have secured the services of highly-rated ex-Scotland U20 centre Michael Tait from Newcastle Falcons until 2015.
The deal represents a return for the 23-year-old son of former cross-code international, Alan, who arrived on a month-long loan from Newcastle Falcons in September.
Born in Melrose, Tait came through Scotland's age-grade system with Edinburgh Rugby regulars Grant Gilchrist and Matt Scott, expressed his delight at this extended opportunity.
"I'm really chuffed to get signed up," said Tait.
"I couldn't believe it when I heard from Edinburgh. I loved my time at the club in September and wanted to stay but I was recalled by Newcastle.
"When I was there the new coaches had just arrived and basically told us that it was hard work that was going to get us through the season.
"From there it was all about playing hard, training hard and sticking to the systems.
"That suits me well. I like to get down and work hard and the club and the players are certainly doing that.
"This is a massive opportunity. I'm going to grab it with both hands and give it everything I've got."
"Michael [Tait] is a young player who we saw briefly earlier this season, and who probably didn't have enough time down at the club," said Edinburgh head coach Alan Solomons.
"What we did realise straight away is that he's a really good team man that fits into the Edinburgh environment very well.
"He's a bright young talent who comes out of the Borders region and this year-long contract will give him an opportunity to show what he can bring."