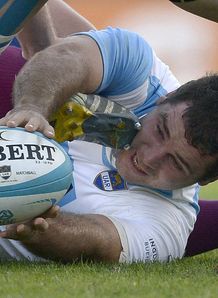 Related links
Teams
Edinburgh have announced the contract extension of 26-year-old Argentine international back-row Tomas Leonardi until the end of 2014/15.
The 18-times capped back-row was signed late last year on a short-term deal to the end of the 2013, and has done enough in the eyes of the club's coaches to merit an 18-month extension.
"This is great news for me. I've worked really hard in my time here and I'm really happy to re-sign for the rest of this season and one more," said Leonardi, who has made five starts in seven appearances since arriving in October.
"When I first came here I was really impressed with the facilities, the squad and the coaching, so was very excited to get the opportunity to train and play.
"In these three months I've done my absolute best to perform for the club and make a good impression.
"Securing a longer deal eases my mind a bit and allows me to focus more on myself and plan some longer-term improvements for my game, but I'll still work as hard, day by day, to repay the coaches for the faith they've shown in me."
Edinburgh head coach Alan Solomons, added: "Tomas is a physical, abrasive and hard working player and his training and performances have justified this extension.
"He's comfortable across the whole back-row and this versatility is extremely valuable to the squad.
"He's settled in the city and with the squad, and has done well in the short time he's been with the club.
"We're really pleased he's agreed to stay for another season and look forward to the value he'll continue to add in an immensely competitive area of the Edinburgh Rugby squad."