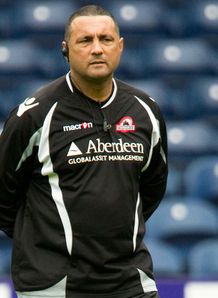 Related links
Teams
Also see
Edinburgh have announced key changes to their coach setup for next season, with head coach Michael Bradley to leave the club.
Defence coach Billy McGinty today resigned from his post, while the club confirmed that Bradley will not have his contract renewed at the end of this season.
"I have enjoyed my time at Edinburgh Rugby and have met some fantastic people. The support from the fans has been magnificent. Good luck to Edinburgh Rugby in the future," said McGinty.
Bradley will continue to coach the side until his contract ends this May, and will share the defensive duties with forwards coach Neil Back, who joined the club in July last year.
"It's been an honour to be Edinburgh Rugby head coach and I'd like to thank my fellow coaches, management team, players, staff, fans and sponsors for their support these past two years," said Bradley.
"Building a strong club with a clear identity, which has shared ownership from the players, management, fans, sponsors and the community at large is the key driver of all successful teams and, for me, it is critical that this work continues and enables both the club and the team to reach its full potential.
"The undoubted highlight of my two years was the joy on the faces of all connected with Edinburgh Rugby when the final whistle went when we overcame Toulouse in last year's quarter-final of the Heineken Cup at Murrayfield.
"I am very disappointed by the run of results this season and will put everything into the remainder of the season to help the club build for a brighter future."