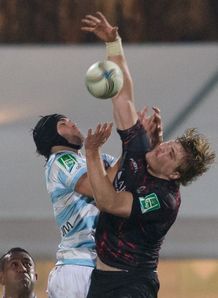 Related links
Teams
Edinburgh full-back Greig Tonks believes that the intensity and tempo from their second-half showing in Paris is the key to unlocking Racing Metro's defence at Murrayfield.
The club had a significant spell of possession and territory as time marched on in Paris but, while Racing appeared to tire, the visitors couldn't make the all-important breakthrough as they did so famously last season.
The Top 14 side arrive in Edinburgh for the return leg of the Heineken Cup double-header this Friday, and Tonks believes that home advantage and the big Murrayfield pitch will lend themselves well to the visitors' plight.
"I thought we played some good rugby in the second half, moved the ball well and put a lot of pressure on Racing Metro with some exciting rugby," said Tonks.
"Tactically we knew what we had to do and, at times, we did it well, but it didn't pay off in terms of points. We didn't take our chances for a couple of scores late on, which was very frustrating.
"A lot of teams are vulnerable in the last 20 minutes. We felt that was the case with Racing in Paris and I think that's something we'll attack again, providing we can sustain a lot of their pressure early on as they're extremely physical.
"We know how they play and that's unlikely to change too much in the space of a week. We'll fine tune some small elements and look at a few opportunities in their defence where we think we can get a couple of scores."
One of the club's first signings for the 2012/13 season, Tonks arrived from Northampton Saints as a highly-rated, but little-known full-back with Scottish qualifications (his mother is from Ayrshire).
However, since his arrival, he has established himself as one of the club's top and most consistent performers, becoming a popular figure with fans thanks to strong counter attack running from deep and a thundering left boot.
The versatile 23-year-old has been deployed at centre and fly-half but is most at home in his favoured role of full-back, where he has started all but one game this season, missing out on the Heineken Cup opener against Saracens with a hand injury.
Tonks explained that the opportunity to compete consistently for the club has put him in the best position of his career to improve as a player and strike for international honours.
"I'm really happy with my decision to move to Edinburgh and to have played in almost every game. It's exactly what I was looking for and was the reason I was so keen to join," he said.
"It's been a frustrating season so far, with our results a bit up and down but, personally, I'm loving it here and I'm enjoying playing. There's no substitute for game time so I'm just happy to be involved every week.
"There are a number of new players at the club and game time is helping us gel. It makes everyone's game that bit more natural and allows individual contributions to come together for a better team outcome.
"As far as playing for Scotland is concerned, I think at the moment it's a matter of continuing to play well for Edinburgh, get results for the club and progress from there, with another opportunity to do just that this Friday against Racing."