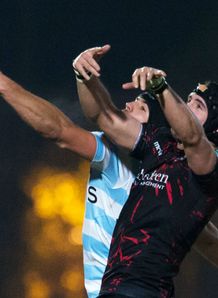 Related links
Teams
Edinburgh coach Michael Bradley was left to pick up the pieces after a third consecutive Heineken Cup loss in Paris on Saturday.
Bradley bemoaned a number of missed opportunities as last season's semi-finals went down 19-9 to Racing Metro to remain rooted to the bottom of Pool One without a single point.
While pleased with his players' commitment, Bradley was frustrated at their failure to turn prolonged pressure into points.
"We're disappointed with the result because we came here to win and we didn't," he told reports after the game at Stade Yves du Manoir.
"We haven't performed to the levels and standards we set ourselves in the first two games of this Heineken Cup season but this was totally different and we were in the game right to the last minute.
"The boys played well and the frustrating thing is that we had opportunities throughout the game. The period at the start of the second half saw us dominate the game and I felt that if we could have scored then, the game would have swung our way.
"But to give Racing their credit, they produced a strong defensive show in that 20-minute period to hold us out, which was a crucial part of the match.
"Unfortunately they then scored a try with probably their only real shot at our line in the second half and that was it. On another day, it could all have been very different.
"Despite what happened in previous weeks, we did not come here with the attitude just to limit what Racing could do with the players they have.
"We came here to win but we will take the positives from the attitude the players showed and we are looking to beat them next week at Murrayfield."