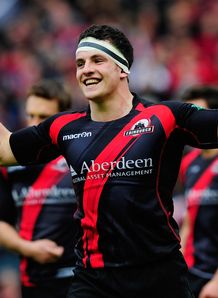 Related links
Teams
Edinburgh have secured the services of 22-year-old centre Matt Scott on a new deal that will keep him at the club until the 2015 Rugby World Cup.
Scott put pen to paper on a two-year extension back in January, at a time when he was still considered an academy prospect in his final year of university, studying Law.
Despite already making great strides in his debut season, Scott rose to greater prominence in the international window where he made a try-scoring debut in Scotland A's 35-0 win over England Saxons in February before earning his first cap for Scotland in the Six Nations in March.
A month later and Scott had added a Heineken Cup quarter and semi-final to his resume, before being selected to start all three matches on his first Scotland tour where he achieved Test victories over Australia, Fiji and Samoa.