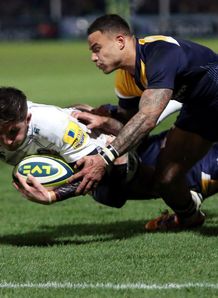 Related links
Teams
Friday's LV= Cup action produced victories for Cardiff Blues, Leicester Tigers and finally Sale Sharks.
Leicester were forced to leave it late as Worcester struggled to find their range kicking for goal.
Results:
Ospreys 13-21 Cardiff Blues
Worcester 18-21 Leicester
Harlequins 26-31 Sale Sharks
---
Simon Humberstone was key to Cardiff Blues' win over the Ospreys, as the 26-year-old Englishman scored 11 points with the boot including a drop goal in the 73rd minute.
The Ospreys had lead 13-11 at the break thanks to a try from inside centre captain Jonathan Spratt and additional points from the boot of Matthew Morgan.
But it was the Blues who came from behind to triumph thanks to Macauley Cook's late try, before Humberstone did the rest.
The scorers:
For Ospreys:
Try: Spratt
Con: Morgan
Pens: Morgan 2
For Cardiff Blues:
Try: Dacey, Cook
Con: Humberstone
Pens: Humberstone 2
Drop Goal: Humberstone
Yellow Card: Copeland
Ospreys: 15 Jamie Murphy, 14 Aisea Natoga, 13 Tom Isaacs, 12 Jonathan Spratt (c), 11 Dafydd Howells, 10 Matthew Morgan, 9 Tito Tebaldi, 8 Joe Bearman, 7 Arthur Ellis, 6 Graham Knoop, 5 Rhodri Hughes, 4 Lloyd Peers, 3 Dan Suter, 2 Matthew Dwyer, 1 Marc Thomas.
Replacements: 16 Evan Yardley, 17 Nicky Smith, 18 Nicky Thomas, 19 Sam Williams, 20 Sam Lewis, 21 Rhys Webb, 22 Sam Davies, 23 Ben John.
Cardiff Blues: 15 Dan Fish, 14 Richard Smith, 13 Gavin Evans, 12 Dafydd Hewitt, 11 Chris Czekaj, 10 Simon Humberstone, 9 Alex Walker, 8 Robin Copeland, 7 Thomas Young, 6 Ellis Jenkins, 5 James Down, 4 Macauley Cook, 3 Benoit Bourrust, 2 Kristian Dacey, 1 Sam Hobbs.
Replacements: 16 Rhys Williams, 17 Taufa'ao Filise, 18 Tom Davies, 19 Miles Normandale, 20 Rory Watts-Jones, 21 Luke Hamilton, 22 Lewis Jones, 23 Tom Williams.
Referee: Greg Macdonald (England)
Assistant referees: Jon Mason (Wales), Ben Whitehouse (Wales)
---
Worcester's record descended to just a single win from their opening 11 matches of the season under Dean Ryan.
The Warriors lead by a single point at the interval thanks to two first-half tries from new signing Andy Symons and returning openside Jake Abbott.
Sam Betty's untimely sin-binning before the break brought the Tigers in range through an Owen Williams drop-goal and they didn't look back thanks to try from Michael Noone and a penalty score.
Replacement Christian Scotland-Williamson notched a third try for Worcester but the missed conversion left them three points adrift at the final whistle.
For Worcester:
Tries: Symons, Abbott, Scotland-Williamson
Pen: Warwick
Yellow Card: Betty
For Leicester:
Tries: Noone, Penalty
Pens: Williams 2
Drop Goal: Williams
Yellow Card: Gibson
Worcester: 15 Ben Howard, 14 James Stephenson, 13 Max Stelling, 12 Andy Symons, 11 Ravai Fatiaki, 10 Paul Warwick, 9 Jonny Arr, 8 Jonathan Thomas (c), 7 Jake Abbott, 6 Sam Betty, 5 Mariano Galarza, 4 James Percival, 3 Rob O'Donnell, 2 Chris Brooker, 1 Ofa Fainga'anuku.
Replacements: 16 Ed Shervington, 17 Jeremy Becasseau, 18 Euan Murray, 19 Christian Scotland-Williamson, 20 Richard de Carpentier, 21 George de Cothi, 22 Ignacio Mieres, 23 Dean Hammond
Leicester Tigers: 15 Scott Hamilton, 14 Henry Purdy, 13 Matt Smith, 12 Javiah Pohe, 11 Miles Benjamin, 10 Owen Williams, 9 David Mélé, 8 Jordan Crane, 7 Jamie Gibson, 6 Michael Noone, 5 Sebastian de Chaves, 4 Joe Cain, 3 Fraser Balmain, 2 Harry Thacker, 1 Boris Stankovich (c).
Replacements: 16 Neil Briggs, 17 Tom Bristow, 18 Jérôme Schuster, 19 Tom Price, 20 Harry Wells, 21 George Tresidder, 22 Pasqualle Dunn, 23 Perry Humphreys.
Referee: Gwyn Morris (Wales)
Assistant referees: Paul Burton (England), Gareth Copsey (England)
Timekeeper: Eric Bullion (England)
Assessor: Paul Bridgman (England)
---
Sale ran in four tries past a weakened Harlequins outfit at The Stoop, with Danny Cipriani finishing the narrow 31-26 win.
Dave Seymour, James Gaskell and Rob Miller were the other scorers in a good away win for Steve Diamond's side, who had new signing Viliami Fihaki sin-binned on debut.
Harlequins' points came courtesy of Ben Botica, who scored 21 including four penalties and an early try.
For Harlequins:
Tries: Botica, Walker
Cons: Botica 2
Pens: Botica 4
Yellow Card: Wallace
For Sale Sharks:
Tries: Seymour, Miller, Gaskell, Cipriani
Cons: Macleod 4
Pen: Macleod
Yellow Card: Fihaki
Harlequins: 15 Tom Williams, 14 Charlie Walker, 13 Tom Casson, 12 Tim Molenaar, 11 Sam Smith, 10 Ben Botica, 9 Karl Dickson,8 James Chisholm, 7 Luke Wallace (c), 6 Joe Trayfoot, 5 Charlie Matthews, 4 George Merrick, 3 Mark Lambert, 2 Dave Ward, 1 Darryl Marfo.
Replacements: 16 Harry Allen, 17 Nic Mayhew, 18 Will Collier, 19 Tom Guest, 20 Matt Hopper, 21 Sam Stuart, 22 Louis Grimoldby, 23 Paul Sackey.
Sale Sharks: 15 Mike Haley, 14 Tom Brady, 13 Will Addison, 12 Mark Jennings, 11 Rob Miller, 10 Nick Macleod, 9 Dwayne Peel, 8 Mark Easter, 7 David Seymour, 6 James Gaskell, 5 Michael Patterson, 4 Jonathan Mills, 3 Henry Thomas, 2 Tommy Taylor, 1 Eifion Lewis Roberts.
Replacements: 16 Marc Jones, 17 Ross Harrison, 18 Tony Buckley, 19 Andrei Ostrikov, 20 Viliami Fihaki, 21 Will Cliff, 22 Danny Cipriani, 23 Charlie Ingall
Referee: Ian Tempest (England)
Assistant referees: Martin Fox (England), Phil Watters (England)
Timekeeper: Robert Ockenden (England)