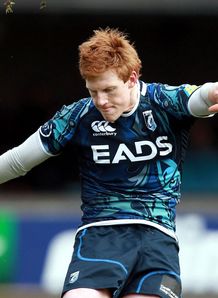 Related links
Teams
Cardiff Blues have re-signed the quintet of Rhys Patchell, Sam Hobbs, Rhys Williams, Tom Davies and Richard Smith.
The five youngsters, Patchell, Hobbs, Williams, Davies and Smith are key to Phil Davies' 25x25 vision of having twenty-five players under the age of twenty-five in the squad.
"At the start of year everyone said that Rhys Patchell can do this and that, you are never short of advice on players but the one thing I have always looked for in players is there temperament," said Cardiff Blues director of rugby Phil Davies.
"I look back over the years at some of the players that have come through; Danny Care at Leeds, Simon Easterby, players like that who have gone on to play international rugby and that is what struck me about Rhys very early on.
"He is a very intelligent young man, has a very good temperament and he takes things in his stride.
"What we must remember is he a young man and it is important that we nurture him and I think that the staff here have done a great job for Rhys and he has done a fantastic job for us.
"Rhys is the future of the Blues, players like him, Sam Hobbs, Tom Davies and Tom Williams are the type we want to be building the team around.
"That is why it was so important to get him to stay and to have him around for the next three years is fantastic.
"I think we have given him the opportunity and he has taken it.
"We had stick for some of the results early on because we were trying to develop, grow and nurture the squad to gain some depth for ourselves. We have achieved that now and the results have got a little bit better. There is a bigger picture and it is about putting things into context, we are starting to do that.
"Never at any point have we got excited or emotional about anything, we have just continued to work hard and harder.
"Patchell alongside Ceri Sweeney, Jason Tovey and Gareth Davies, have all made a contribution but Patchell has really grabbed the mantel and has done exceptionally well.
"He still has a long way to go but for a young player he is remarkably composed, he has an outstanding temperament and that will help him in years to come."