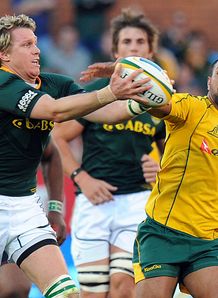 Related links
Teams
Springbok captain Jean de Villiers has rejected suggestions that Saturday's big win over Australia had anything to do with a dramatic change in game plan.
After looking uninspired on attack so far in the Rugby Championship, the Boks scored five tries and could easily have scored three more.
While De Villiers praised young fly-half Johan Goosen for his positive role, he insisted the victory was due rather to the solid platform established up front and the backs finishing off their opportunities rather than a change in tactics.
"We haven't changed one thing," said the Bok captain.
"The thing that has changed is that we are now capitalising on the pressure we put on the opposition. People don't seem to understand that.
"We have shown that we can create, and now we are starting to finish. It's not that we went out there with a more attacking mindset. It was more about playing the situation.
"If the opposition leave men back, then obviously there is more space to attack from close. If they bring men up, then you will kick to the back to find the space. No defence is watertight, there is always space. It's about finding out where that space is and exploiting it."
Coach Heyneke Meyer was obviously happy at the result but called for his team to be more clinical, adding that they could not afford to waste chances when they face the All Blacks next week.
The home side's kickers left 16 points by the wayside and had three tries turned down by the TMO.
"We have very high standards, and there were three more tries that we should have scored," explained Meyer.
"It's great to come home and win, and we haven't beaten the Aussies for some time, but we have to start taking those opportunities.
"We would like to score more tries next week but we are aware of the challenge of playing the world champions.
"New Zealand are a very settled side. In terms of defence, they have a number of experienced players who have been in that system for ages.
"They're the world champions and one of the reasons for that is their defence. It's going to be really difficult to create and score against them.
"We will need to be more patient with ball in hand, more tactically astute. If we get scoring opportunities, we will need to make them count.
"We are the only team that has played three matches away in a row. The All Blacks will come here now and we are hoping that South Africa will get behind us. It is always harder for visiting teams to win on the Highveld too."