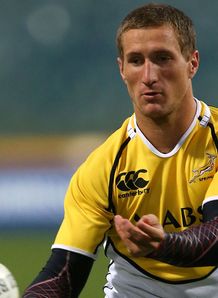 Related links
Teams
Springbok fly-half Johan Goosen is happy to wait his turn before starting a Test - but believes he is ready for it.
Goosen has been the understudy to Morne Steyn for the 10 jersey and impressed when coming off the bench as the pivot's replacement in recent games against the Wallabies and All Blacks.
The 20-year-old revealed that Heyneke Meyer has explained to him why he has not started yet and he is content with his current role in the squad.
"The coach has been great in how he has dealt with me," Goosen told keo.co.za.
"I've always known his plans and I believe those plans are in my best interests.
"He has been very careful, especially in terms of my exposure to the media and so on. I'm patient. I know what the purpose of the plan is.
"But I also feel like I can make the step up to start if the coach asks me to. I feel ready."
With the Boks favouring a kicking game-plan, Goosen knows he has to curb running instincts but disagrees with the notion that Meyer's approach is conservative.
"Of course you have to be a little more careful about your attacking play in Test rugby, defensive systems are so good and teams punish small errors," he explained.
"But that doesn't mean the coach doesn't encourage me to run the ball when it is on.
"I work hard on my tactical kicking, even though we don't kick that often at the Cheetahs.
"I feel I can fit into the plans from a kicking perspective. But of course my strength is running the ball.
"There's a lot of room for that with the Springboks and the coach encourages us to express ourselves.
"It is about assessing the opposition's defensive set-up quickly and taking that split second you have to go wide.
"I think that is the biggest adjustment you have to make from Super Rugby - the time and space you have is so much less."