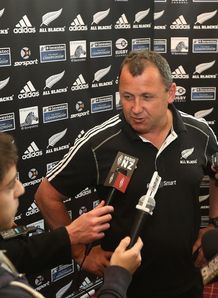 Related links
Teams
Apart from fly-half Dan Carter's calf strain, there are no injury concerns for New Zealand ahead of Saturday's Test against South Africa in Dunedin.
That was the word from assistant coach Ian Foster who said the team felt the effects of the physical onslaught from the last week's Test against Argentina.
"There was certainly a lot of ice in the shed afterwards, but I think in the next couple of days we should have a full roster," he told Fairfax Media.
Foster said the team had analysed the video of their 21-5 victory over los Pumas and although some of the viewing was not too pleasant it was a good experience.
"The pleasing thing was the way the players were figuring things out as we went along," he said.
"The first 40 was terrible and the conditions made it very hard to play the way we wanted to play.
"It probably forced us in to making a few decisions we probably shouldn't have made and that didn't help us stretch the Argentinians the way we wanted to... We are playing at an intensity and speed level that we're pretty excited about, that we're getting right.
"We haven't quite got the finishing on it just yet, but particularly last week I thought the last 30 minutes of the game showed we were reasonably close to getting some things right."