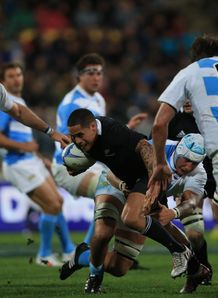 Related links
Teams
All Blacks coach Steve Hansen and captain Richie McCaw were highly complimentary of Argentina's defence and aggression after Saturday's Rugby Championship clash in Wellington.
The world champions were pushed hard by the impressive tourists with New Zealand only able to pull clear in the final 15 minutes to win 21-5 after holding a 6-5 lead at the break.
"They're probably one of the best defensive teams in the world," Hansen told reporters.
"The system they use is very good. They give you a lot of space on the outside and make you think there's a fool's gold out there and if you go too early with missed passes they drift out and cover that.
"And their one on one tackling is good. They're a very passionate team and have a lot of desire to play for their nation."
The Pumas were very effective at slowing the All Blacks' ball down by flooding the breakdown, and McCaw highlighted their aggressive approach.
"Around the fringes where we tried to get some go forward they defended that pretty well, slowed the ball down and we turned it over," said McCaw.
"I think that was what happened in the first half they had a lot of intensity and we weren't as secure as we would've liked."
Despite the victory the All Blacks will be disappointed with their display after committing numerous errors, especially in the first half.
"Our first half we tried to play way too much rugby for the conditions," said Hansen, pointing to the strong winds and rain.
"We tried to move the ball at times when we should have held on to it. Our ball security wasn't that great.
"The second half we executed pretty good. Our ball security was a lot better. We ran better lines, were more effective at putting pressure on the Argentinians and were perhaps a little bit unlucky not to score another couple of tries.
"(But) I thought for the last 30 minutes of the game we totally controlled it and played in the right half."