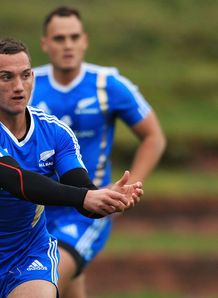 Related links
Teams
All Blacks fly-half Aaron Cruden is relishing the opportunity of replacing Dan Carter in Saturday's Test against Argentina in Wellington.
Cruden makes a rare run-on appearance for New Zealand and is aiming to make a big impact in the Carter's famous number 10 jersey.
"I don't think Dan likes Wellington too much," he told Sportal.
"He gets a couple of niggles here and there whenever we seem to be playing here but it is a good opportunity for me.
"You always want to be in the starting lineup and I've got an opportunity now and I'm just keen to go out there and make the most of it."
Cruden said finding out that he would be in the starting XV at such a late stage was not a problem for him as every player in the All Blacks squad are advised to always be prepared to play.
"Everyone needs to know the game plan and everyone needs to know what relates to them," revealed the 23-year-old.
"For me, I was doing that throughout the whole week so I don't think it impacts too much getting notified this late.
"I'm just keen to rip into it on Saturday night now."
The Chiefs pivot said he would not be doing anything differently and wants to make his presence felt on Saturday.
"I'm just keen to go out there and play my natural game within the systems we have," he explained.
"I've been an opportunity now to start and I am keen to make the most of it."
Cruden is aware of Argentina's tactic of using their big forwards to run on the opposition's fly-half but said it was a ploy that he has become used to at Test level.
"I just concentrate on trying to chop them pretty early and bring our loosies into the game and it will be no different here," he said.
"The forwards really set the platform for the Argies and it's my job to try and take the big boys down."