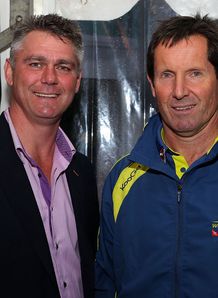 Related links
Teams
Wallabies coach Robbie Deans has shrugged off criticism of both himself and Springbok counterpart Heyneke Meyer as "part of the territory."
Both coaches are in desperate need of a win in next weekend's Rugby Championship clash in Pretoria as they face widespread discontent following disappointing recent reseults against runaway tournament leaders New Zealand and newcomers Argentina.
Deans said Australia's entire traveling group would face up to the pressure in South Africa.
"You just concentrate on what you've got to do," Deans said in Johannesburg after his squad arrived from Sydney.
"It is part of the territory for players and coaches, but when you're part of a team, what you want from your teammate is to be there when it matters. We're (coaches) no different to the playing group from that end."
The hosts are arguably under even more pressure with Meyer's choice of tactics coming under fire and being criticised for relting too much on kicking.
Deans disagreed with that take on South Africa on Friday and said the Springboks were neither conservative nor predictable.
"It's never that straightforward," he said.
"Those sorts of suggestions come about, I guess, when people's needs aren't met. I guess we're talking about win or lose. All of a sudden everything's wrong.
"They've been creative, they've been innovative, they scored a great try last week (against New Zealand), and when you look at the detail of them, which we spend a lot of time doing, you can see some of those little points of difference and the aspirations within their game. It (the criticism) is wide of the mark."
Stand-in captain and second-rower Nathan Sharpe echoed his coach's thoughts. South Africa would combine typical forward strength with the ability to attack out wide at Loftus, said the veteran, who has been handed captaincy duties in his final season of international rugby.
"They're always dangerous, particularly at home. It's one of the challenges of world rugby you want to take because you don't get to do it that often ... South Africans have spoken about it for years but if the game opens up, they'll play that kind of rugby," said Sharpe.
"I don't think we're concerned about what it means for them. It's what it means for us."