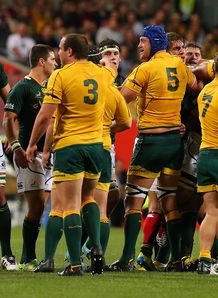 Related links
Teams
Wallabies coach Robbie Deans and Nathan Sharpe hailed the character shown by their side in Saturday's narrow win over South Africa.
Veteran lock Sharpe said pride drove the Australians to a come-from-behind win, their first success in the Rugby Championship.
The Wallabies eased the pressure on Deans when they finally rediscovered their attacking edge to score 20 points in the second half and claw their way back to overpower the Springboks after trailing 13-3 at one stage.
With only one try in their two prior Bledisloe Cup defeats at the hands of New Zealand, the Wallabies looked in real danger of having their four-match winning streak against South Africa snapped with a listless first-half performance that must have made the under-pressure Deans anxious.
However, the unerring accuracy of Berrick Barnes, who was six-from-six with the boot, combined with second-half tries to reserve Scott Higginbotham and prop Ben Alexander to give the Wallabies a welcome win.
Wallabies captain Will Genia also limped off with a knee injury late in the game, leaving Sharpe, on an extended farewell tour having announced his retirement from international rugby months ago, to take on the captaincy role in the dying minutes.
Deans lamented the first 30 minutes from the Wallabies, saying they were inefficient with the ball and kicked too often, but Sharpe said they showed real mettle to regroup, especially after their embarrassing 22-0 loss to the All Blacks a fortnight ago.
"It (winning) means everything, we were playing one of the best sides in the world on our home turf and it doesn't get bigger than that," he said.
"One thing about disappointment at losing in sport is that you get another chance to come out and show how much it means to you and I thought that was particularly evident tonight.
"We came from behind, which is not an easy thing to do against South African teams.
"It was a very gutsy effort from the team."
Deans praised his side's resilience.
"We struggled to get out of our end and we contributed to a large part of that, so it was frustrating," said Deans.
"But the boys made progress and their response to adversity was superb. I was proud of the courage they showed to be three times behind and work their way back."
''They showed real character tonight.
''In the second half, we were able to get the ball for longer periods and ran some good lines. We did enough to come from behind, and that doesn't happen lightly in Mandela Cup games.''
Winger Dom Shipperley, who was making his test debut for Australia, said it was great for the Wallabies to get back into a try scoring habit.
"The team has been criticized in the past for not scoring enough tries," he said winger.
"So to score two in one test, especially against South Africa, is pretty good and I guess to come from behind and just grind it out."