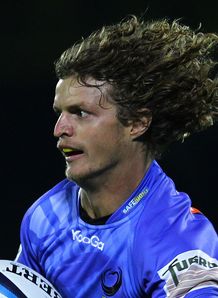 Related links
Teams
The Western Force completed their pre-season preparations with a 29-6 win over the Argentine Pampas XV in Perth on Saturday.
The victory follows last weekend's 69-3 triumph over Samoa A, with the Force refusing to concede a try in either match.
Force captain Matt Hodgson said it was pleasing to hold both sides try-less ahead of their opening Super Rugby fixture against the Waratahs in Sydney on Sunday, 23 February.
"We stepped up a lot in defence last year and it's something we've continued to work on," he explained.
"We've got goals around that and we definitely want to continue to improve and force the opposition to work extremely hard for any points they get.
"We came through the [pre-season] games without any injuries, just a few bumps and bruises, and with everyone on deck for next week, I'm sure it'll be difficult to pick the 23 that go out there [against the Waratahs]."
In a solid team performance, full-back and new recruit Luke Morahan showed a deft touch throughout the match, finishing the match with three try assists and crossing for one of his own in the third quarter. Left wing Nick Cummins was twice the benefactor of Morahan's work, crossing for two tries in the second and third periods.
While the Pampas XV had the early running of possession after the Pampas side spent their first six minutes in attack, it was the Force that hit the scoreboard first when Nathan Charles backed up on the inside to touch down under the posts with the Force's first taste of possession.
Up 7-3 at the quarter-time break, the Force added a further two tries before half time when a Morahan around-the-corner pass found a flying Cummins, with McCalman scoring on the back of a dominant scrum near the try line to take a 17-6 lead at the break.
The Force added a final two tries in the third quarter when Kyle Godwin's quick hands sent Morahan across the line before the pair combined to send Cummins over for the final try of the night.
The Pampas XV scored through two penalties to fly-half Patricio Fernandez.
Meanwhile, Force A has defeated Samoa A, 54-12, in a physical encounter in the opening match at nib Stadium tonight.
The match marked the comeback from a shoulder injury for Force lock Hugh McMeniman, who successfully completed the opening 40 minutes and was denied a try after being held up under the posts in the first quarter.
The Western Australians shared the tries around with eight individual try-scorers, including a charge down try to No. 8 Brynard Stander, who was again strong in his second outing for the club, with Ed Stubbs and Patrick Dellit also crossing for their second tries in as many weeks.
Force A led at every change, including a 35-12 half-time lead, with inside backs Sias Ebersohn and Luke Burton capitalised on almost every try, missing just one conversion between them during the match.
After scoring just a penalty against the Force in Rockingham last week, the Samoans broke their try drought at the end of the first quarter when winger Faafou Amate crossed.
The scorers:
For Western Force:
Tries: Cummins 2, Charles, Morahan, McCalman
Cons: Holmes 2
For Pampas XV:
Pens: Fernandez 2
Western Force: 15 Luke Morahan, 14 Marcel Brache, 13 Junior Rasolea, 12 Kyle Godwin, 11 Nick Cummins, 10 Zack Holmes, 9 Alby Mathewson, 8 Ben McCalman, 7 Matt Hodgson (c), 6 Angus Cottrell, 5 W Steenkamp, 4 Sam Wykes, 3 Kieran Longbotton, 2 Nathan Charles, 1 Tetera Faulkne.
Replacements: 16 Robbie Abel, 17 Francois Van Wyk, 18 Oliver Hoskins, 19 Bruce Smith-Wright, 20 Phoenix Battye, 21 Richard Hardwick, 22 Chris Alcock, 23 Brynard Stander, 24 Ryan Louwrens, 25 Dillyn Leyds, 26 Ed Stubbs, 27 Jayden Hayward. 28 Dylan Sage, 29 Brad Lacey, 30 Sias Ebersohn.
Pampas XV: 15 Roman Miralles, 14 Ramiro Moyan, 13 Matias Orlando, 12 Javier Rojas, 11 Santiago Cordero, 10 Patricio Fernandez, 9 Martin Landajo (c), 8 Ahualli Ahualli, 7 Tomas De La Vega, 6 Rodrigo Baez, 5 Matias Alemanno, 4 Tomas Lavanini, 3 Ramiro Herrera, 2 Matias Cortese, 1 Lucas Noguera.
Replacements: 16 Bruno Postiglioni, 17 Tomas Ramirez, 18 Rodrigo Bruno, 19 Lucas Ponce, 20 Javier Ortegra Desio, 21 Tomas Cubelli. 22 Iglesias Santiago Gonzalez, 23 Manuel Montero, 24 Santiago Iglesias, 25 Facundo Isa, 26 Guido Petti, 27 Julian Montoya, 28 Tomas Carrio, 29 Moroni Moroni, 30 Jeronimo De La Fuente.
Referee: Rohan Hoffmann