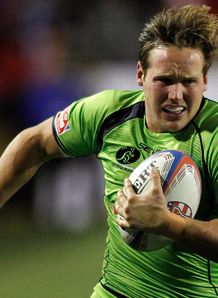 Related links
Teams
Australian Sevens and former Brumbies outside back Ed Stubbs will join a completely revamped Western Force backline for the 2013 and 2014 Super Rugby seasons.
Stubbs joins the Perth-based franchise after spending three years as a regular with the Sevens side, and made three appearances for the Brumbies during the 2010 Super Rugby season.
The new-look Western Force backline has received a wholesale makeover with 11 players that represented the side last season not returning for 2013.
In their place, Stubbs is one of six new faces, including former All Black scrum-half Alby Mathewson, former Cheetahs fly-half Sias Ebersohn, Wallabies utility back Sam Norton-Knight, Australian Sevens outside back Solomoni Rasolea and blockbusting former League inside centre Chris Tuatara-Morrison.
The Western Force forward pack - long regarded as a strength of the side - has been boosted by the inclusion of former Waratahs flanker Chris Alcock with a final place in the forwards yet to be confirmed.
The Force has one 'backs' position still available within its senior playing roster and may still utilise one of its foreign developing player contracts.
David Harvey, Jordan Rapana and Rory Sidey have been released from their contracts with the Western Force for 2013.
Head coach Michael Foley says the new additions for 2013 will complement the existing players within the squad.
"While the Force has developed a strong forward pack, we identified the backline is an area for improvement," he said.
"Last year we didn't do enough with the possession we'd secured and the focus for the future will be to develop that as a strength for the team.
"This is a back division with potential and they'll benefit significantly from working under the tutelage of Steve Meehan.
"While players like Nick Cummins, Alfie Mafi and Brett Sheehan will remain, we've injected some outstanding up-and-coming talent in the way of Sias Ebersohn, Chris Tuatara-Morrison, Ed Stubbs and Junior Rasolea, coupled with the experienced heads of Mathewson and Norton-Knight."