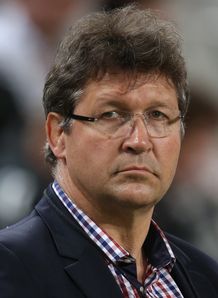 Related links
Teams
Stormers director of rugby Gert Smal is pleased with the progress the Cape Town-based franchise has made since his appointment in April.
When he took over the reins at the Stormers, Smal said he wanted to change the side's culture towards one that chased a game that would be more enjoyable for the players to play and the fans to watch.
"What we have seen recently is very much what I was looking for," he told Supersport.
"I think we are getting the balance right at the moment - when to run and when to pass, when to hold onto possession and when to kick.
"You are can see that the guys are really starting to enjoy the type of rugby we are playing."
Smal prefers variations in the Stormers' style of play and feels that the implementation of a specific game-plan also depends on various factors which they have to adapt to for different fixtures.
"The type of game you play depends on lots of things, including the opposition you are up against and the weather," he added.
"Sometimes you will get opposition where you may have to go to the trenches and win the game that way, but we are busy with the right things at the moment and I am very excited going into the future.
"It is all about just introducing a bit of unpredictability. Some teams are going to expect you to run, and you have to be unpredictable by kicking when they expect that, and vice-versa."