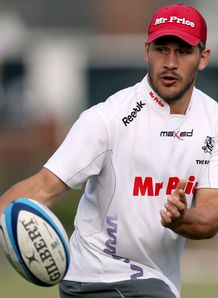 Related links
Teams
Also see
Sharks Director of Rugby Jake White believes Pat Lambie and Frans Steyn can form a championship-winning 10-12 combination.
White is adamant that Lambie will only play at fly-half and believes that having Steyn outside him will provide the young playmaker with the confidence and stability he needs.
2014 looks set to be a big year for Steyn in particular after a disappointing year in 2013 that was marred by injury.
"I've known what makes Frans tick, since he was a schoolboy at Grey College. I know how he thinks," White told the Sharks website.
"His whole life has changed, he has a child now, his value system has changed, and I'm sure that will have an impact on the way he plays and prepares.
"Last year he went through three coaches before the year ended. He likes stability, he likes to be guided without force. He is a prodigy, a sensational player, a freak.
"He was spoken about as the guy who could change rugby. That's what's so exciting. I've sat him down and told him I really need him to show everyone what I think he can do.
"That's important, because when he's next to Pat, you will see a much better Pat Lambie. He's still a work in progress. He came back here and had a knee op, so he's not 100% yet, but everyone knows what his 80% is and that's better than most people when they're 100%.
White reiterated the Sharks will do what he feels is best for them and will not be pressured into positional changes to meet the national agenda.
"Pat Lambie will play at fly-half for 80 minutes of every game and Frans Steyn will play 12 for me. It gives Pat Lambie a massive amount of confidence having Frans play beside him," explained White.
"We will play what's important for the Sharks. We have a philosophy about how we want to play and if it means those two play next to each other for the whole season, then we will make them the best 10-12 combination in Super Rugby."