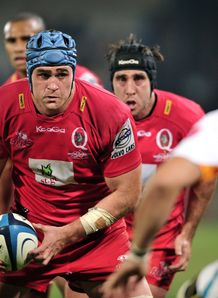 Related links
Teams
Queensland Reds captain James Horwill has returned to training this week as the team continues to prepare for the 2014 season.
Horwill spoke to media following the early morning session and said that he's enjoyed the return to training with the team.
"It's good to be back, it's been nice and warm for the first couple of days and it's great to be back with the boys and training again," said Horwill.
"It's always nice to hit the ground running and be able to get straight back into pre-season.
"I've been really pleased with the enthusiasm of the guys, seeing how well the group is getting along and how excited and positive they all are is really pleasing. Everything's looking very good at this stage."
Head coach Richard Graham also spoke with media and expressed just how important the next five weeks of training will be for the Reds, as they prepare for their first trial match against the Chiefs in Toowoomba on February 8.
"The boys have had a good break and have come back physically and mentally refreshed," said Graham.
"We've got five weeks before our first trial and this block will be very important to us and will go by quickly.
"I've certainly enjoyed the intensity and enthusiasm of the boys so far and they've come back in a really good space."