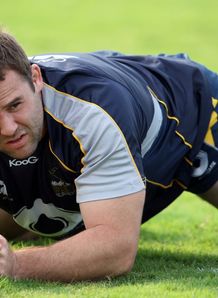 Related links
Teams
Jono Owen has joined the Reds squad as the outfit begin their preparations for Super Rugby, with the prop being the sole fresh face on their books.
The 26-year-old has joined his Reds team-mates at Ballymore where the team is kicking off its pre-season preparations ahead of the new term.
"With each season comes fresh challenges but also a heightened level of excitement for the playing and coaching group and our fans," said Reds director of coaching Ewen McKenzie.
"The beginning of pre-season is always an exciting period and pleasingly for us, we commence our 2013 preparations with an almost identical playing roster to last year.
"Our group, which still remains one of the youngest in Super Rugby, has never enjoyed anywhere near this level of cohesion in previous years and it can only prove beneficial as we continue implementing new strategies and building on our current structures of play.
"We've never hidden from the fact that we are seeking to offer a product that appeals to our fans and the stability within our roster should really allow us to take our game to another level as we improve incrementally as both individuals and as a group.
"But, as we know, everyone begins a new year on a level playing field and with renewed hope, so it's important we use the experiences of last season to our advantage and raise the bar in terms of performance once again. That all begins on the training paddock and in the gym now."
Owen has been signed to further strengthen their front-row stocks and he will be aiming to build on the 17 Super Rugby caps he has earned previously during the last two seasons.
He said he is now looking forward to the opportunity of playing in Queensland for the Reds.
"One of the big reasons I decided to come to Queensland was that Ewen McKenzie has a history of backing guys who train hard and play well by giving them an opportunity," Owen said.
"So for me, my goal during the preseason is just to work hard, tick the boxes and push towards a healthy competition with the other guys in my position. Hopefully that will make me a better player and also improves the team.
"There is a really positive environment here at the Reds and you can tell by the fact that they have kept the majority of their roster together that they have an extremely strong culture on and off the field.
"I'm really looking forward to being part of that, putting in a big preseason and setting myself up to achieve a lot more in Rugby by doing my part for the team."