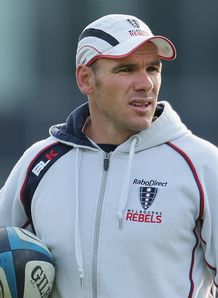 Related links
Teams
Rebels foundation captain Stirling Mortlock says the Waratahs may gain inside knowledge on the Melbourne franchise's tactics.
With the two due to meet this weekend, former Rebels assistant coach Nathan Grey jumped ship during pre-season to take up the same position under Michael Cheika in NSW.
Keeping the prolific Israel Folau - whose try tally for the 'Tahs' opening three games stands at six - under wraps will be chief among the Rebels' concerns, and Mortlock reckons Grey will give his new side an edge regarding how they plan to deal with the rampaging full-back.
"I guess any position [Grey] had last year, or initiative he had last year ... he would certainly be telling 'Izzy' and the relevant backs what we are trying to do," Mortlock told the Sydney Morning Herald.
"History is only a bit of a guide - people evolve and try and do different things to nullify teams and individuals but ...
"You [also] look at any opportunity to have a mental or physical one-up in your preparation and that would be what they [Waratahs] would be looking at.
"Obviously, he [Grey] is a guy who has a really good understanding of our organisation."
The former Wallaby centre felt his side could learn from the way the Brumbies nullified Cheika's high-flyers' space out wide, ultimately winning the game and restricting Folau to a single try.
"The Brumbies managed to do it really, really well across the paddock," added Mortlock.
"Izzy scored another amazing try and still showed some amazing touches. But for the most part of the game - and likewise with a lot of the other players who have had huge impact with ball in hand - they managed to nullify them out of the game."