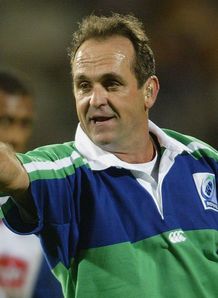 Related links
Teams
Also see
SARU General Manager of Referees, André Watson, has waded into the row surrounding a controversial Lions try last weekend.
Centre Deon van Rensburg appeared to lose control of the ball as he was tackled by the Blues' Charles Piutau during the Johannesburg-based side's 39-36 victory, with full-back Coenie van Wyk eventually grounding the ball in the in-goal area.
The try was awarded upon referral to the TMO, leaving the Blues seething. Earlier this week, SANZAR referees boss Lyndon Bray responded to the controversy by claiming in a statement the try should not have been awarded, as van Rensburg had knocked-on.
However, it appears Watson and the SARU disagree with Bray's assessment, and have asked the IRB to rule on the decision once and for all.
"I believe it was not a contentious issue from a refereeing point of view but rather from a law perspective. The knock-on law is very clear: a player needs to lose possession, with the ball then travelling in a forward direction," Watson told Sport24.
"However, the debate with regard to this specific incident revolves around whether the ball-carrier lost the ball or whether the ball was dislodged from his grasp as a result of the action of the tackler.
"While SANZAR have issued a statement saying the try should not have stood, we at SARU have referred the matter to the IRB and are awaiting a ruling. The debate is currently hanging in the air as two contrasting opinions currently exist."