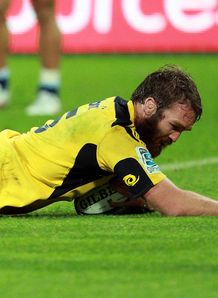 Related links
Teams
Hurricanes lock Jason Eaton has said that he has verbally agreed to stay with the Wellington-based franchise.
Eaton said although he has reached agreement with Hurricanes coach Mark Hammett, he has not signed a contract and admitted that there is a slight chance he could move overseas instead.
"I have verbally agreed to be back at the Hurricanes, but I haven't put pen to paper yet," Eaton told the Sunday News.
"I have really enjoyed playing for Taranaki and the Hurricanes and I don't want to leave, but I will assess things over the summer.
"I am getting old and I'll try to make some money out of my career while I can."
The 30-year-old All Black has one year remaining on his current deal with Taranaki but has a release clause in that contract.
"I have got options to leave if that's the way I decide, but if I am in New Zealand I want to play for the Hurricanes and Taranaki," he said.
"They're the two teams that have looked after me the most and I like to be loyal and give back to them as much as I can.
"I have really enjoyed the past year with both teams."
Eaton's current situation is vastly different to what it was a year ago. Initially he was not offered a contract by the Hurricanes at the end of the 2011 season and there were rumours he was on his way to the Crusaders.
But Hammett eventually changed his mind and Eaton stayed on for his eighth season with the franchise.
"It's a huge difference over the way things have transpired over the last 12 months," he said.
"There is a completely different environment in the Hurricanes from this year to last year and I like to think I was a part of that.
"I'd like to continue that and it is pleasing not having to ask around for a job and pleading with people.
"It's not very nice and this is a much better situation to be in."