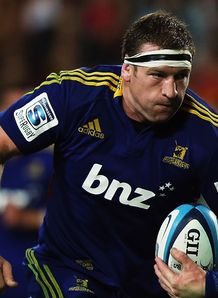 Related links
Teams
Highlanders prop Chris King has received a week-long ban for striking an opponent in his side's Saturday clash with the Lions.
The SANZAR Duty Judicial Officer Peter Ingwersen has accepted a guilty plea from King for contravening Law 10.4 (a) Punching or striking, after he was cited during the Super Rugby match in Dunedin.
King has been suspended from all forms of the game for one week up to and including 17 May 2014.
In his finding, Mr Ingwersen ruled the following:
"Having viewed the video footage and the Citing Commissioner's report, I held a teleconference with Mr King and his counsel Mr Aaron Lloyd. King accepted a breach for the cited offence.
"King, assisted by his Counsel, explained the dynamics of the incident and submitted that he had no intention of striking his opponent but that the raising of the arm and the contact was an unintentional product of a blocking action. It is common cause that no injury resulted and that the opponent continued playing after some brief attention.
"I concurred with Mr Lloyd's submission that the incident had an entry point in the low range which starts at a two week suspension. No aggravating circumstances prevailed and given the player's exemplary and clean record in a long and distinguished career, along with the fact that he accepted responsibility for his actions and pleaded guilty, I reduced the suspension to one week.
"The player's playing schedule was considered and the effect of the suspension is that he is suspended up to and including 17 May 2014."