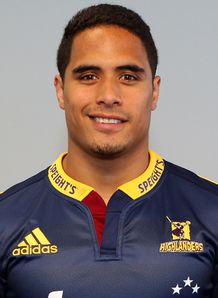 Related links
Teams
All Blacks scrum-half Aaron Smith has described the Highlanders' gruesome 2013 season as some of the hardest times of his life so far.
Smith was one of many All Blacks in the side along with Andrew Hore, Tony Woodcock, Hosea Gear, Colin Slade and Ben Smith to name a few, only for Jamie Joseph's squad to finish second-bottom in the competition with only three wins from 16 matches.
The 25-year-old went on to have a much better year with the All Blacks as they finished last year unbeaten, but admits the season with the Highlanders was a low moment.
"The first eight months of last year were some of the hardest times of my life. But in saying that you are sort of glad about it because if everything is smooth sailing you wouldn't appreciate what you had," Smith told TVNZ.
"There were definitely some dark times there but the boys never gave up and never turned on each other.
"On a personal note, it wasn't the best year of my life with the Highlanders but I was happy to finish it so strongly [with the All Blacks]."
Smith countered the suggestion that the Highlanders maybe got ahead of themselves last season given the talent in the squad, with too much focus resting on results.
"I don't think we read into the hype. I think we just got a bit ahead of ourselves," added Smith.
"We just needed to focus on short-term goals, not long-term ones. We were worried about results during the game but not the process.
"When you worry about the outcome you don't play and train like you normally [would] because you are so worried about getting the win."
Many of those top players have now left the franchise, leaving the Highlanders with a group full of new faces for this season - something that Smith feels is a positive factor.
"We are just trying to set realistic goals, really," stated Smith.
"We have got to do the work before we start talking about championships going really well.
"The whole mindset is a lot different. I think we would all like to put that [2013] behind us."