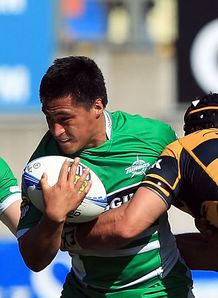 Related links
Teams
The Highlanders have signed Manawatu centre Jason Emery and Otago front-rower Liam Coltman on three-year contracts.
Coltman, who turns 23 in January, has played 22 ITM Cup matches for Otago over the past three seasons. He was in the Highlanders' Wider Training Group in 2012 and was also a key member of the New Zealand U20 team that won the world title in 2010.
"Liam's form has been impressive in the ITM Cup this season. We have selected him as a hooker for the Highlanders, but his athletic ability is obvious when he has been playing tighthead prop in the Otago team this season" said Highlanders coach Jamie Joseph.
Emery is playing in his first ITM Cup season for Manawatu and has been impressive in the Turbo's midfield since making his debut earlier this season. He was part of the New Zealand U20 team that played in the Junior World Championship in South Africa earlier this year.
"Jason is a young and talented player and he has a great understanding of the game for a 19-year-old. I know he will be a good fit in the Highlanders squad" added Joseph.
Coltman and Emery are currently playing in the final rounds of the ITM Cup competition and they will join the Highlanders for their pre-season training in December.