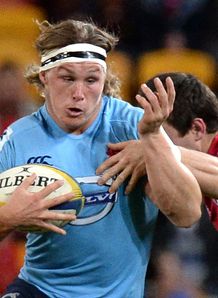 Related links
Teams
Waratahs' captain Michael Hooper's absence at a photo session has increased the tension with the Crusaders ahead of Saturday's final in Sydney.
The Sydneysiders made a request for Crusaders skipper Kieran Read to remain at the ANZ Stadium, after his side's captain's run so that photographers and TV crews could get a chance to capture images of him and Hooper posing with the trophy.
But Hooper never arrived at the promotion's allocated time and, after waiting around for 20 minutes, Read departed the venue after posing for photos on his own.
A Crusaders spokesperson said Read had to leave to attend a team function.
"We are not trying to play any tricky games here," the spokesperson told Fairfax Media.
It was just we couldn't have Reado running late because he had a team function to attend.
"If we had all day to wait, then it would have been okay. He would have waited.''
Hooper eventually arrived an hour late and a Waratahs spokesman revealed that he was late because their training session at the Sydney Football Stadium in Moore Park, went on for longer than expected.
"It couldn't be helped," he said.
"It was just unfortunate we were late and unfortunate the Crusaders couldn't wait. It was just one of those things. We eventually got the shot (photograph).''
The spokesman said Hooper's late arrival was not intended to wind-up their opponents.
It is understood the Waratahs had initially asked the Crusaders if the photo session could be held in front of the Sydney Opera House but the men from Christchurch, who are staying at Olympic Park, requested it to be done at ANZ Stadium.