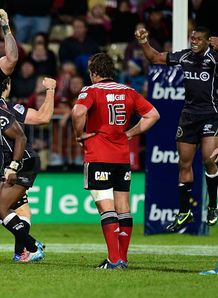 Related links
Teams
Also see
According to a South African sports scientist, the Sharks will run out in Christchurch ten points adrift of the Crusaders due to outside factors.
Dr Ross Tucker, who works at the Sports Science Institute of South Africa, believes Jake White's Sharks have hurdles ahead of them on Saturday.
"Looking over the results, simple home-ground advantage is worth about five points, while travel is worth about another five points," Tucker told sarugbymag.co.za ahead of the semi-final.
"The consequence of that is if you are going to beat a team away from home after travelling, you need to be around 10 points better than them. It makes a big difference."
Tucker also says the referee becomes a factor.
"The reason it is so difficult to win overseas is because of the physiology of what it takes to travel. You lose sleep during an uncomfortable night on a plane and later because of jet lag," he added.
"Added to that, you're away from home, the other team is familiar with the stadium and the conditions, and the referee is subconsciously on their side."