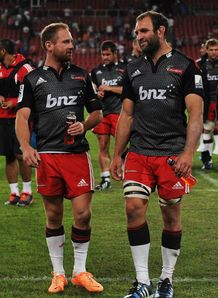 Related links
Teams
Crusaders flanker George Whitelock will move to Japan to play for the Panasonic Wild Knights at the end of the Super Rugby season.
Crusaders and Canterbury CEO Hamish Riach said that as one of the most capped Crusaders players and the Canterbury captain since 2009, Whitelock will be sorely missed.
"George has been an absolute stalwart of these Canterbury and Crusaders teams," said Riach.
"He has been with Canterbury for all six of the last premiership-winning seasons and captained them for the last five. He has also played for the Crusaders since 2008, paving the way for his three younger brothers - Adam, Sam and Luke - to follow.
"He has given so much to these teams with his impeccable professionalism, dedication and leadership. His teammates and all of us here at the Crusaders and Canterbury Rugby will miss his presence around the place, but wish him nothing but the best for the future."
Crusaders head coach Todd Blackadder said Whitelock is the sort of player who leaves a legacy when they move on.
"George's contribution to red and black rugby cannot be underestimated," said Blackadder.
"He is a workhorse, a leader and a highly respected member of the team.
"It has been a pleasure and an honour to have him in the Crusaders and, on behalf of the team, I would like to thank him for the contribution he has made. That contribution has not ended yet and I know that his teammates will be determined to try and make his final Crusaders season a successful one," Blackadder said.
Whitelock has initially signed for one year with the Panasonic Wild Knights and will leave after the 2014 Super Rugby season.