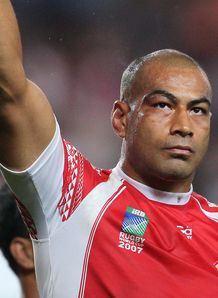 Related links
Teams
Former Tonga second row and captain Inoke Afeaki is optimistic Singapore can secure the soon to be open spot in Super Rugby.
Singapore and Japan are the early favourites to compete in the expanding Super Rugby competition come 2016.
And Afeaki, who is Singapore Rugby's technical director believes his organisation has everything needed to drive a successful team.
"The infrastructure here in Singapore and the rugby people in the country can make it work," he told New Zealand's Newstalk ZB.
Plenty of ex-internationals that reside here in Singapore, so there'll just be more and more of the rugby minds that are already here in Singapore that will jump on board and make sure it works."
Afeaki feels they have to be wary of the financial side, however.
"Super Rugby is not really pulling in money in any of the franchises in huge amounts as it used to do in the late 90s, so it's how much is it really going to benefit the union is the question that I think Hong Kong have already answered, they've pulled themselves out," he added.
The former Hurricanes lock feels Singapore must but top class players if they want to become a competitive franchise.
"Singapore, a little bit like Japan, they only lack people migrating to the country that are very very good at what they do," explained Afeaki.
"It'll have to be a transplant situation. You're going to have to bring a lot of the best players from around the region to park up for a few months."