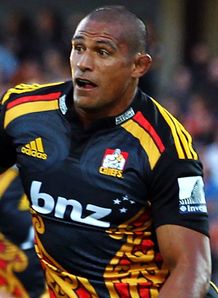 Related links
Teams
Chiefs flanker Tanerau Latimer is determined to finish his stint at the Hamilton-based franchise on a high.
But although he doesn't want to go out on a low note Latimer - who has played more than 100 games for the Chiefs - will not be using his impeding departure to Japanes club Toshiba as motivation during the last two matches of the regular season.
''I'll play it the same as when I played my 50th, I'll play it the same as when I played my first game and right through,'' Latimer told Fairfax Media.
''It could be the last few games I have for the Chiefs here in New Zealand, but the motivation is there for me to win anyway.
''I just want this team to win. It has been a great ride the last two seasons and I'd love to get this team back there.''
The 28-year-old was part of the Chiefs' triumphant Super Rugby campaigns in 2012 and 2013 but also played for the side when they failed to reach the play-offs.
He admits that winning back-to-back titles has raised expectations at the Chiefs. And because of that, and the high standards set by the players, the team has been frustrated by their six losses and two draws this season, although they are still confident of making the play-offs.
''We've done it from one and two [seedings] before so we might as well try it from six and see if we can win it from there," added Latimer.
''I think if we did manage to respond to [the challenge] and get into the playoffs and make a final and whatnot I'd say I'd be more proud of this effort than the last two because it's been a tougher road in some ways."