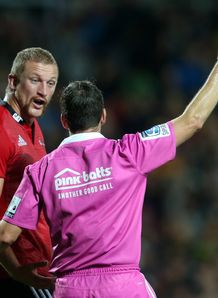 Related links
Teams
Also see
Dominic Bird, Michael Fitzgerald, Flip van der Merwe and Michael Rhodes have all been cited following Saturday's matches.
Bird and Fitzgerald's citings resulted from the same match as the former's Crusaders defeated the latter player's Chiefs in Waikato.
Bird was charged for a shoulder charge on Chiefs number eight Liam Squire, while Fitzgerald's charge was for an elbow to Crusaders captain Read. Both Squire and Read failed concussion Tests and exited the game which the Crusaders won 18-17.
Both incidents met the red card threshold for foul play according to the citing commissioner. The pair have both been suspended for one week each.
Bulls captain Flip van der Merwe was charged for striking Waratahs prop Paddy Ryan late in their 19-12 loss to the hosts in Sydney.
Stormers lock Michael Rhodes faces a lifting tackle charge following his team's 18-3 win over the Lions in Cape Town.